Grain-free Almond Bread
By Shewekar Elgharably • December 9, 2015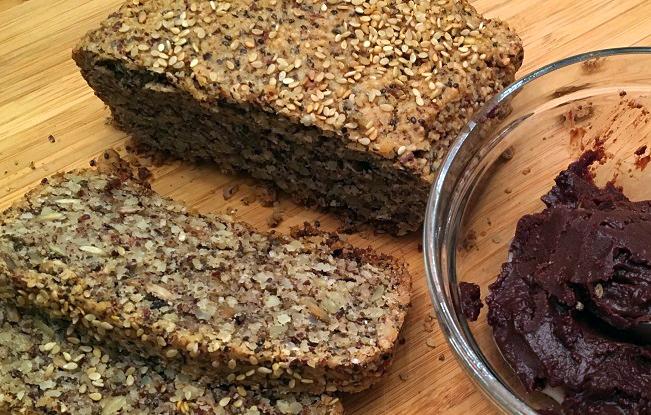 This is a simple recipe for grain-free bread made with almonds and pumpkin seeds and served with love.
Ingredients
1 1/2 cup

almonds (whole raw) - لوز

1/4 cup

arrowroot starch (or tapioca) - أرووروت النشا

2 1/4 teaspoon

baking powder - باكينج باودر

1/2 teaspoon

baking soda - بيكربونات الصودا

1/2 teaspoon

salt - ملح

1/4 cup

pumpkin seeds - بذور اليقطين

1/4 cup

sunflower seeds - بذور عباد الشمس

1/4 cup

chia seeds

4

eggs (organic eggs) - بيض

1/4 cup

cashew nuts (soaked soaked mixed w 1/4 cup water & 1 tbsp apple cider) - الكاجو

2 tablespoon

olive oil - زيت زيتون

1 tablespoon

maple syrup - شراب القيقب

sesame seeds (for topping) - بذور السمسم
Step by step
Preheat oven to 180 C.
Grease & dust loaf pan w coconut oil & rice flour.
Grind the raw almonds. Mix almonds together with the arrowroot starch or tapioca. Add baking powder, baking soda, salt, pumpkin seeds, sunflower seeds & chia seeds.
In a separate bowl, mix together the wet ingredients - eggs, cashew cream, olive oil & organic maple syrup.
Mix wet & dry together until there no lumps. Pour into the pan & smooth the top, sprinkle with rock salt & sesame seeds.
Bake for 45 minutes. Allow it to cool before cutting it.