Soy & Ginger Chicken Stir-Fry
By shahdan • October 13, 2015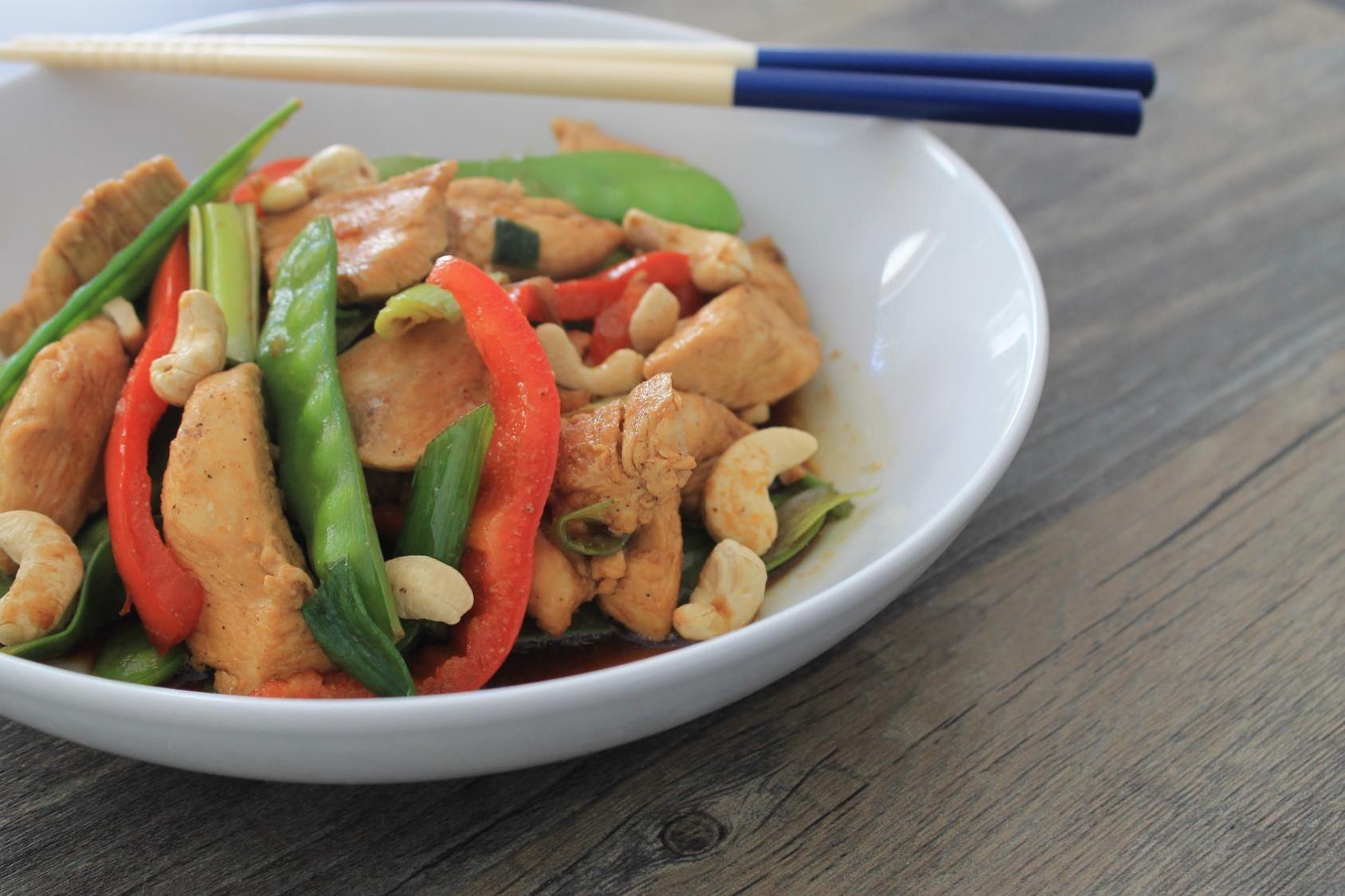 This luscious chicken stir-fry dish is easy, delicious and packed with healthy vegetables! You can make it your own by choosing your very favourite vegetable combinations.  You may use broccoli, mushrooms, bell peppers, carrots, bok choy, cabbage… You may also replace the cashews with toasted sesame seeds.
Ingredients
650 gram

chicken breast fillet (around 4 fillets) - صدور فيليه الدجاج

200 gram

snap peas - البسلة السكرية

1 large

red pepper - فلفل أحمر

5 medium

spring onion - بصلة خضراء

2 teaspoon

fresh ginger (peeled and grated) - جنزبيل

4 large

garlic clove (crushed) - فص ثوم

2 tablespoon

olive oil - زيت زيتون

1/4 teaspoon

garlic powder - بودرة ثوم

1/8 teaspoon

black pepper - فلفل أسود

8 tablespoon

soy sauce - صوص الصويا

3 tablespoon

water - ماء

3 teaspoon

sugar (preferably brown sugar) - سكر

2 teaspoon

sesame oil - زيت السمسم

1 handful

cashew nuts - الكاجو
Step by step
Cut the chicken into thin strips, season with black pepper and garlic powder, cover and refrigerate for 30 minutes, or overnight.
To prepare the veggies, cut the red pepper into strips, and cut every spring onion into two lengthwise then chop diagonally. Leave the snap peas whole, if using any.
Combine the soy sauce with the water and sugar and set aside.
Heat one tablespoon olive oil in a wok or large frying pan and stir fry the chicken over high heat until golden and cooked through. Remove from the wok, cover and set aside.
In the same wok, heat another tablespoon of olive oil then add the ginger and crushed garlic. Stir fry for 30 seconds before you add the veggies. Stir fry for another 2 minutes, then return the chicken and stir in the soy mixture.
Lower the heat and leave the chicken to simmer for further 2 minutes. Add the cashews, sesame oil and more black pepper if needed, toss together, and serve!