4-Ingredients Caramel Chocolate Bites
By yasmine • February 15, 2022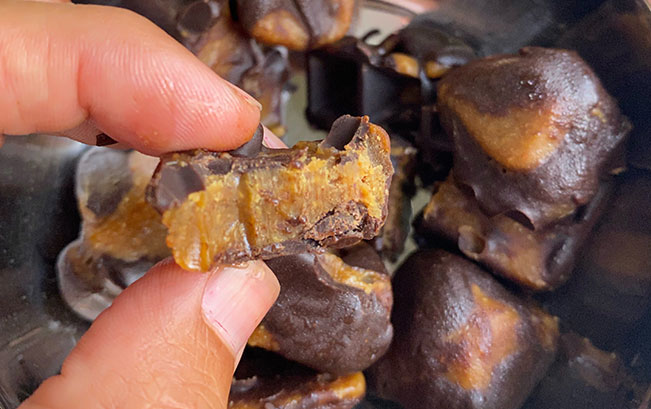 These Caramel Chocolate Bites are refined sugar-free and vegan (if using vegan dark chocolate).
This recipe is easy and quick – you can prepare it whenever you are having a sweetness rush or having people coming over. They will not believe these chewy Rolo-style bites are full of nutritious ingredeints and sugar-free.
Make sure to always store it in the fridge or freezer.
Ingredients
1/3 cup

almond butter (OR peanut butter) - زبدة اللوز

1/4 cup

molasses - عسل أسود

1/4 cup

coconut oil - زيت جوز الهند

1 cup

dark chocolate - شوكولاتة غامقة
Step by step
Mix almond butter, molasses and coconut oil well.
Leave it in a bowl to freeze or place it in individual bite-size molds. Leave in freezer for 30 minutes or more.
In the meantime, melt chocolate in a water bath. Place bowl with chopped chocolate over a pot filled with little water (make sure the water doesn't touch the chocolate bowl.) Put it all on the stove and watch the chocolate melt slowly from the water steam. Stir occasionally until completely melted.
Let the chocolate cool for a couple of minutes before rolling the caramel bites in to the chocolate one by one to cover it. If you are not using a mold, use a small spoon to scrape balls of caramel from the frozen bowl. Drop these caramel balls into the chocolate to cover from all sides. Set aside to cool.
Place the chocolate caramel bites back into the freezer for another 30 minutes until the chocolate sets. Serve cold. For best results, store in the freezer.