Poached Eggs with Smoked Salmon
By Sarah Hamada • September 3, 2016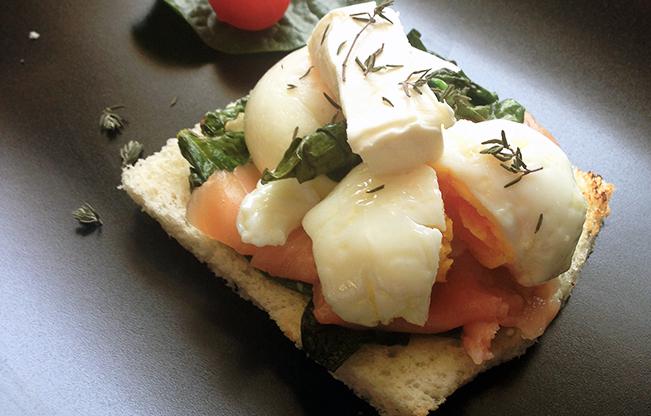 Bored of traditional eggs; here is an easy and healthy recipe for breakfast: Poached Eggs with Smoked Salmon on toast!
Ingredients
1.5-2 cup

boiling water - ماء ساخن

6 leaves

spinach - سبانخ

1 slice

smoked salmon - سمك السلمون المدخن

1 teaspoon

olive oil - زيت زيتون

1 slice

bread - خبز

1 pinch

salt - ملح

1 pinch

thyme (to taste) - زعتر

1 tablespoon

cream cheese (to taste) - جبن كريمى
Step by step
For a perfectly poached egg: Open an egg in a small round bowl. Bring water to a simmer in a small pot. Stir water in the pot so you can have a round water current in the pot then drop the egg for three minutes and watch it become hard and white .
In the mean time put some olive oil in a pan, add spinach leaves and stir it for a minute.
On a slice of your favorite bread, add wilted spinach, then smoked salmon slice then the poached egg as soon as it is ready. Add a piece of cream cheese on the top and sprinkle some thyme and voila!