Black-Eyed Peas Stew
By shahdan • May 20, 2018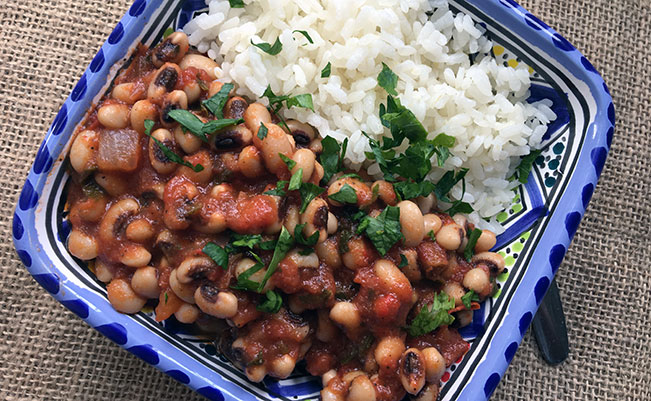 Sometimes the simplest food is the most delicious. This Black-Eyed Peas Stew is a favourite family recipe to be served with white rice or vermicelli rice. I love to add red bell pepper to the traditional recipe because it gives the stew natural sweetness without the need to add sugar to the tomato sauce. A handful of freshly chopped parsley adds beautiful colour and flavour to this all time favourite. This is not just comfort food at its best, it is also good for your health.
Remember to soak the black-eyed peas overnight or at least two hours before cooking.
Ingredients
250 gram

black-eyed peas (about 1 cup soaked overnight in water) - لوبيا

1/4 teaspoon

ground cumin - كمون

1 tablespoon

olive oil - زيت زيتون

1 medium

onion (finely chopped) - بصلة

1/2 large

red bell pepper (diced) - فلفل رومي احمر

2 medium

garlic cloves (minced) - فصوص ثوم

2 cup

tomato juice (grated tomatoes) - عصير طماطم

1 tablespoon

tomato paste - معجون طماطم / صلصة طماطم

1/2 cup

water (OR stock) - ماء

1 handful

parsley (finely chopped) - بقدونس

salt and pepper (to taste) - ملح و فلفل
Step by step
Drain pre-soaked black-eyed peas and rinse with fresh water. Transfer to a pot, and cover with fresh water then add cumin, and boil on medium heat until cooked yet firm. Drain and set aside.
In a separate pot, heat olive oil and sauté chopped onion on medium heat until soft (about 5 minutes). Add diced bell pepper and minced garlic and continue to cook while stirring for another 3 minutes. Season with salt and pepper.
Add tomato juice, tomato paste, water, and the cooked black-eyed peas. Stir and cover. Leave to simmer on medium/low heat for 15-20 minutes. You may add a little more hot water if you feel it might dry-out. Adjust salt and pepper, sprinkle parsley, and serve hot next rice and your favourite protein dish for a complete meal.