Popcorn Granola Trailmix
By CairoCooking • September 6, 2016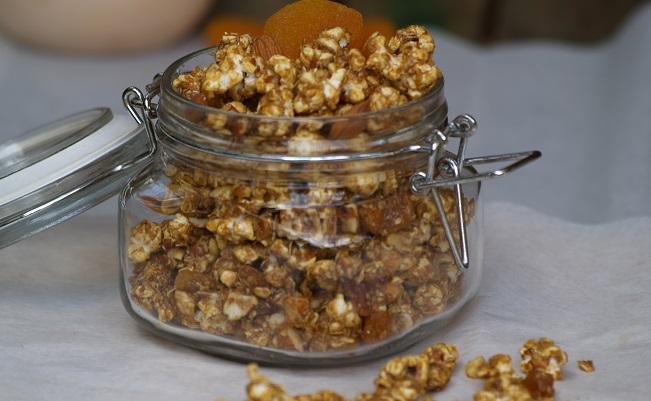 Your kids will love this Popcorn Granola Trailmix in their lunchbox. It is also so nutritious and filling, you'll love preparing it in advance to them.
Ingredients
2 cup

popped popcorn - فشار

1 cup

almonds - لوز

1/4 cup

coconut - جوز الهند

1/4 cup

raisins - زبيب

4

dried apricots (cut into small pieces)

1/2 cup

oats - شوفان

1/4 - 1/2 cup

molasses - عسل أسود
Step by step
Preheat oven to 180C.
Spread coconut and shredded almonds on an ungreased baking sheet and bake until lightly toasted, around 5-7 minutes.
In a big bowl, mix popcorn, coconut, almonds, raisins, oats and apricots together.
Slowly drizzle 1/4 cup molasses and stir. Add more molasses, if needed.