Hearty Harira Soup
By yasmine • May 17, 2015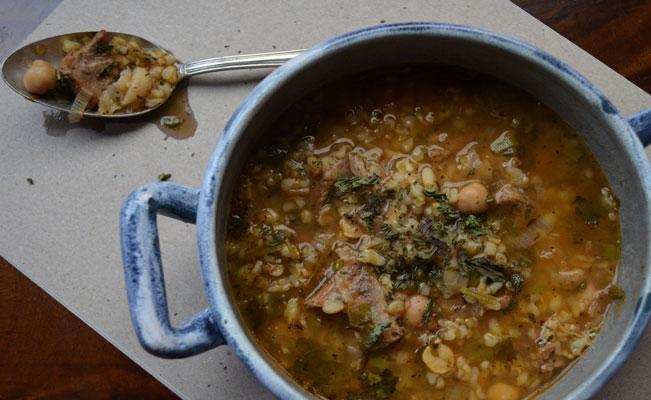 My parents lived in Algeria for a year before I was born. There, my mum learned a couple of signature recipes that she made her own and these became a tradition (especially in Ramadan) on our dinner table – like Boreik (coming soon) and Warm Yoghurt Soup. This hearty and filling soup is one of those recipes she learned and simplified to match her speedy lifestyle without compromising on its deliciousness.
Note: The onions should be really browned so the meat also takes on a brownish colour from the onions! You can leave out hummus or substitute farro with noodles if you don't have any.
Ingredients
500 gram

beef رقبة بتلو - لحمة

1 tablespoon

butter - زبدة

2

onions (minced) - بصل

2 piece

mastic / mesteka - مستكة

3 piece

cardamom - حبهان

2 liter

boiling water - ماء ساخن

2 tablespoon

tomato paste - معجون طماطم / صلصة طماطم

1/2 cup

celery (chopped white & green) - كرفس افرنجي

1 cup

freekeh - فريك

1/2 cup

hummus (or one small can - optional) - حمص

green chili pepper (or red chili pepper) - فلفل أخضر حار

salt and pepper - ملح و فلفل
Step by step
Melt the butter on medium heat, add mesteka and onions and let it fry until browned.
Add meat pieces and fry for 15 to 20 minutes while adding salt and pepper and stirring occasionally.
When the meat is browned, add 1 liter boiling water or just enough to cover the meat. Reduce heat, cover and let it cook further for one hour.
As soon as meat is tender, add the tomato paste and let it thicken for another 10 minutes (at that point you will see the fat separating from the sauce – meaning metsabeka).
Add the rest of the water, chilli as desired, farro, hummus and celery and let it cook for another 15 minutes.
Once all the ingredients are cooked through, the soup is ready. Before serving, remove the chilli and sprinkle a handful of dried mint on top for garnish and a special kick.