Balsamic Dijon Roasted Steak
By Alia El Askalany • July 3, 2015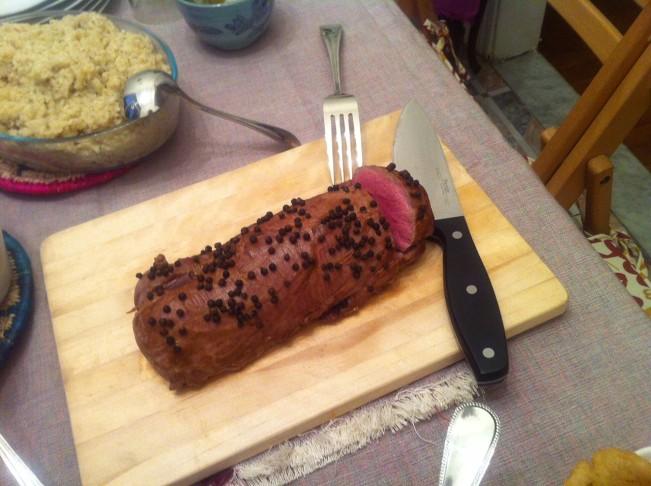 This recipe was an entry in the #TheMeatCompete.
A super easy & fast steak recipe that is convenient for quick dinners & will have you and your family & guests hooked in no time.
Ingredients
2-2.5 kg

beef fillet (one piece) - فيليه كندوز

3 tablespoon

Dijon mustard - مسطردة ديجون

2 tablespoon

balsamic vinegar - الخل البلسمي

3 tablespoon

pepper corn - فلفل اسود حب

2 tablespoon

olive oil - زيت زيتون
Step by step
Preheat oven to 200 C while you prepare your meat. Make sure your steak is not cut into pieces but actually one whole piece (3er2 filletto). Let meat outside of fridge to defrost over night so it reaches room temperature and cooks evenly.
Prepare your oven dish by mixing the mustard, vinegar, oil and salt to create a marinade and whisk well.
Place your steak log (3er2 filetto) in the marinade and coat very well, rubbing marinade all over it. Season with fresh black peppercorns last, before oven, so it creates a nice crust on the outside. You can choose to leave them whole or cracked - per your preference.
Place in oven and cook for 20-30 minutes for rare, 25-40 minutes for medium and 50 minutes for well done.
Place your steak onto a dish and let rest for 5 minutes before you serve & slice.