Zesty Fresh Spinach & Beetroot Salad
By shahdan • January 20, 2016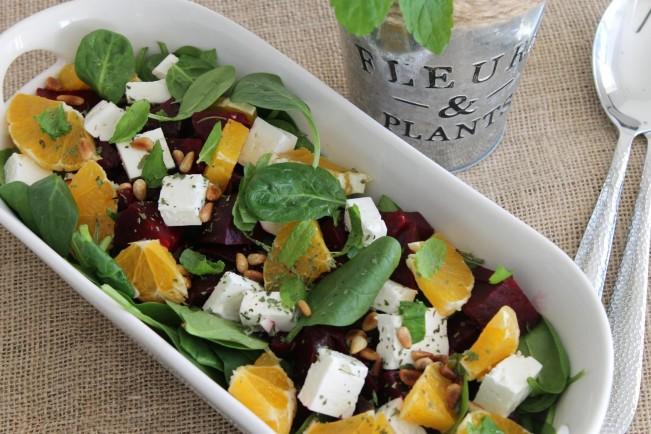 Vibrant, nutritious and full of bold textures and flavours… This salad will blow your mind away! Made with the season's fresh produce, it is sweet, tangy and delicious without any added dressings! Try it, it might become your new salad addiction!
Ingredients
200 gram

spinach (fresh leaves) - سبانخ

4 medium

beetroot (boiled, peeled and cubed) - بنجر

2 small

lime - ليمون بلدي

200 gram

feta cheese (good quality Greek feta) - جبنه فيتا

2 medium

orange - برتقالة

10 leaves

mint - نعناع

1 teaspoon

dried mint - نعناع مجفف/ ناشف

1 tablespoon

pine nuts - صنوبر
Step by step
Place the washed and dried spinach leaves in the serving bowl or plate. Arrange the cooked beetroot cubes on top and add the lime juice.
Next, cut the feta cheese into cubes and scatter on the dish.
Peel the oranges, then slice them into round slices. Cut each slice into 4 quarters and arrange on the salad.
Sprinkle the fresh mint leaves and the dried mint on top.
Toast the pine nuts by spreading them on a dry pan over medium heat. Shake the pan until the nuts reach a golden colour (2- 3 minutes). Sprinkle on top of the salad and serve.