Beef Shawerma in 30 Minutes
By shahdan • March 30, 2019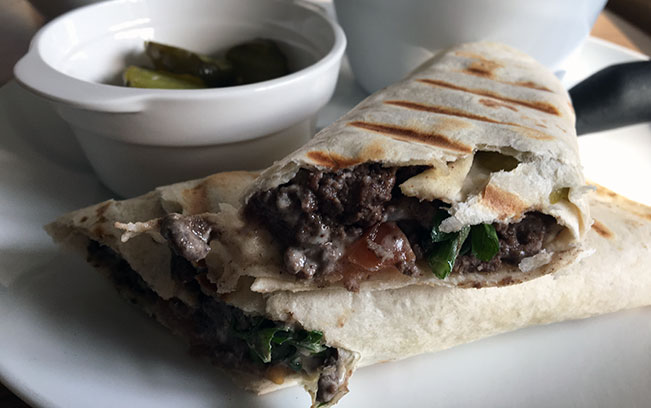 Yes wherever you are, you can have delicious Egyptian-style Beef Shawarma in 30 minutes only and the secret ingredient is minced beef. It cooks super quickly and it is seasoned in the same pan while cooking. The result is mouthwatering tender beef shawarma ready for juicy Egyptian street-style sandwiches.
In gatherings, we like to serve a large shawarma platter with wraps, round sandwich bread, tahini, garlic sauce, and pickles on the side. It is always a great crowd pleaser, and prepared only 30 minutes ahead. An absolute delight!
Pomegranate molasses gives this dish a nice tangy flavour and beautiful shine, but if you can't find it, feel free to leave it out.
Leftovers are best kept in a sealed box in the fridge and used as sandwich fillers for the lunchbox and for day and night cravings.
Ingredients
2 tablespoon

olive oil - زيت زيتون

1 large

onion (diced) - بصلة

500 gram

minced meat - لحم مفروم

1 teaspoon

cinnamon powder - قرفة

1 teaspoon

all spice - بهارات

2 tablespoon

vinegar - خل

2 medium

lime - ليمون بلدي

1 tablespoon

pomegranate molasses (optional) - دبس رمان

2 tablespoon

tahini (straight from the jar) - طحينة

salt and pepper - ملح و فلفل

3 medium

tomatoes (deseeded & diced) - طماطم

1 bunch

parsley (finely chopped) - بقدونس
Step by step
Heat oil in a large pan and sauté diced onions on medium heat until soft (about 5 minutes).
Add minced beef, season with cinnamon and all spice and stir occasionally on high heat until beef is cooked and juices are almost absorbed.
Add vinegar and generously squeeze lime juice. Sprinkle with salt and pepper to taste.
Add pomegranate molasses and stir, then turn off heat and add 2 generous tablespoons tahini from jar. Taste and adjust salt and pepper.
Add diced tomatoes and chopped parsley. Mix and serve with your favourite bread, tahini dip, or garlic sauce and pickles.