Chicken & Broccoli Filo Pie
By yasmine • January 5, 2017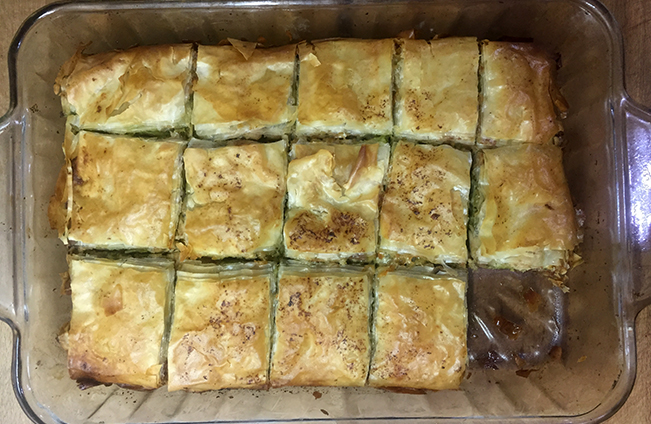 The chicken & broccoli filling to this filo pie is so delicious and heartwarming. The cheese melting between the soft broccoli and tender chicken along with the crispiness of the buttered filo provide you with the deliciousness and warmth you expect from a homemade pie!
You can prepare it as a round or as a rectangular pie cut in squares.
Ingredients
1/2 kg

chicken breast fillet (cut in strips) - صدور فيليه الدجاج

1/2-1 kg

broccoli (1 head - cut in flowers) - بروكلى

1/2 cup

mozzarella cheese (OR cheddar cheese - shredded) - جبن موتزاريلا

1/2 cup

parmesan cheese (grated) - جبنة بارميزان

salt and pepper - ملح و فلفل

1-2 tablespoon

olive oil - زيت زيتون

3 large

eggs (divided) - بيض

1/4 cup

butter (melted) - زبدة

2 tablespoon

milk - لبن
Step by step
In a large pan, heat olive oil and fry cut chicken fillet pieces for about 5 minutes. Set aside.
In the meantime, boil broccoli florets in a medium pot (filled about halfway with hot water) for 5 minutes as well.
In a large bowl, add semi-cooked chicken and broccoli florets, salt & pepper, cheeses, and only two eggs. Mix to combine.
Preheat oven to 180C. Mix one egg with milk in a small bowl and set aside.
In a large oven dish or pyrex (you can use round or rectangular), add the first sheet of filo pastry (goulash). Brush it with melted butter, then add another sheet and brush again. Repeat until you have 5 sheets of filo pastry at the bottom of the pyrex. If you are using a round dish you might have to put two sheets next to each other for each layer. You can just stick their sides to each other by brushing them with melted butter.
Spread the chicken broccoli mix evenly on top of the pastry, leaving half a cm from all sides around the edges.
Add another filo sheet and brush it with melted butter. Repeat with the remaining 4 sheets. Then thoroughly and generously brush the top layer with the egg & milk mixture.
Tuck the sides of the top layer down the edges of the oven dish to tuck in the sides of the pie.
Cut the pie into even squares (about 5cm x 5cm) if its a rectangular or into pie slices if it is round - before you place it in the oven. That way you will avoid cracking it or cutting it unevenly after it bakes.
Place the oven dish in the middle of the oven for 25 minutes to cook evenly. If the top doesn't turn golden, put it under the broiler for a couple of minutes before taking out of the oven. Serve it warm.