Traditional Sweet Qatayef
By yasmine • June 14, 2015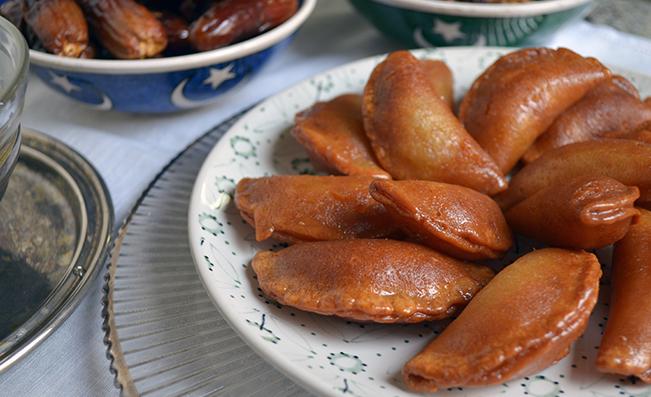 The traditional sweet Qatayef are different in each home. Some people add almonds and pistachios, others are into cream fillings. My mother's nut-based stuffing mix is really simple yet so delicious, we always go back for more. Hope everyone enjoys it as much as my family and I do.
Ingredients
1 kg

Qatayef (small to medium-sized) - قطايف

100 gram

hazelnut - بندق

2 tablespoon

sugar - سكر

1/2 teaspoon

cinnamon powder (optional) - قرفة

3 tablespoon

coconut flakes - رقائق جوز الهند

1 handful

raisins (or to taste) - زبيب

2 cup

sunflower oil - زيت عباد الشمس

SYRUP

2 cup

sugar - سكر

1 cup

water - ماء

1/2 piece

lime - ليمون بلدي
Step by step
To prepare the syrup, add sugar, water and lime piece (without juicing) in a small pot over medium heat and stir slowly as the sugar dissolves. As soon as the water starts boiling, put the heat down to low and let it simmer for up to 15 minutes or when you feel the liquid has thickened. Set aside at room temperature to cool for an hour. You can always prepare this in advance and leave for days in a jar.
Place whole hazelnuts in a blender or grinder and pulse it into granulated powder form.
Mix hazelnuts with sugar, coconut flakes and raisins (if using any).
Using a small teaspoon, stuff raw Qatayef and bind them firmly to make sure they hold well while frying. Make sure they are full without opening.
Heat oil in a medium frying pan or pot (it takes about 3 minutes on medium heat), and fry Qatayef in batches for about 5 minutes each batch or until they are crispy from the outside and golden (takes about 4 minutes but stir once). They should be done in about 3 batches.
Remove Katayef from oil and place them shortly into a plate covered with kitchen paper to absorb excess oil. While still hot, move them again quickly into the syrup bowl and stir to cover them with syrup. Serve warm in a bowl or flat serving dish.