Chicken Strips with Pickled Lemon Sauce
By Salma El Hayawan • January 28, 2016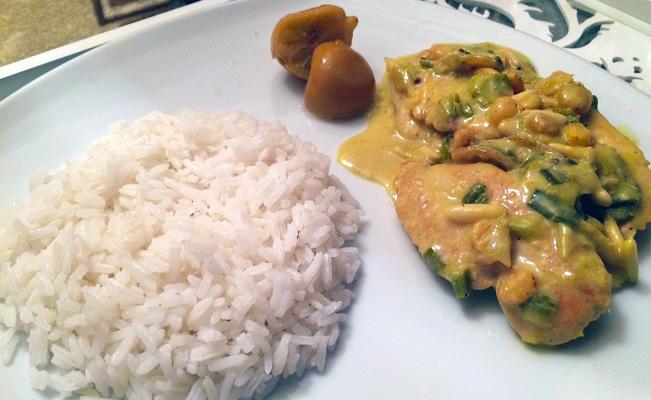 A new take on chicken that is not just lovely when you're cooking for two, but also impressive for your guests.
Ingredients
500 gram

chicken breast fillet - صدور فيليه الدجاج

4-5 piece

pickled lemon - ليمون معصفر

1 1/2 tablespoon

olive oil - زيت زيتون

3 stalks

green onions - بصل أخضر

1 handful

raisins - زبيب

1 handful

pine nuts - صنوبر

2 box

garlic cloves - فصوص ثوم

1/2 teaspoon

saffron - زعفران

1/4 cup

water - ماء

100 ml

cooking cream - كريم الطهي

1 teaspoon

flour - دقيق

1 pinch

salt - ملح
Step by step
Cut each chicken fillet into 3 strips. Preheat oven to 180C.
Place a large pan with olive oil on medium heat. Add minced garlic then chicken strips and stir-fry until chicken is lightly browned.
Add hot water, salt, sliced lemons and chopped green onions. Let it mix and cook for 5 minutes.
Stir in flour, cooking cream, saffron, half the raisins and half the pine nuts. Place the pan in the oven for another 5 minutes.
Toast remaining pine nuts in a small pan over medium heat for two minutes. Sprinkle the remaining raisins and pine nuts just before serving. Serve warm next to rice.