Roasted Eggplant & Labna Bruschetta
By shahdan • February 26, 2016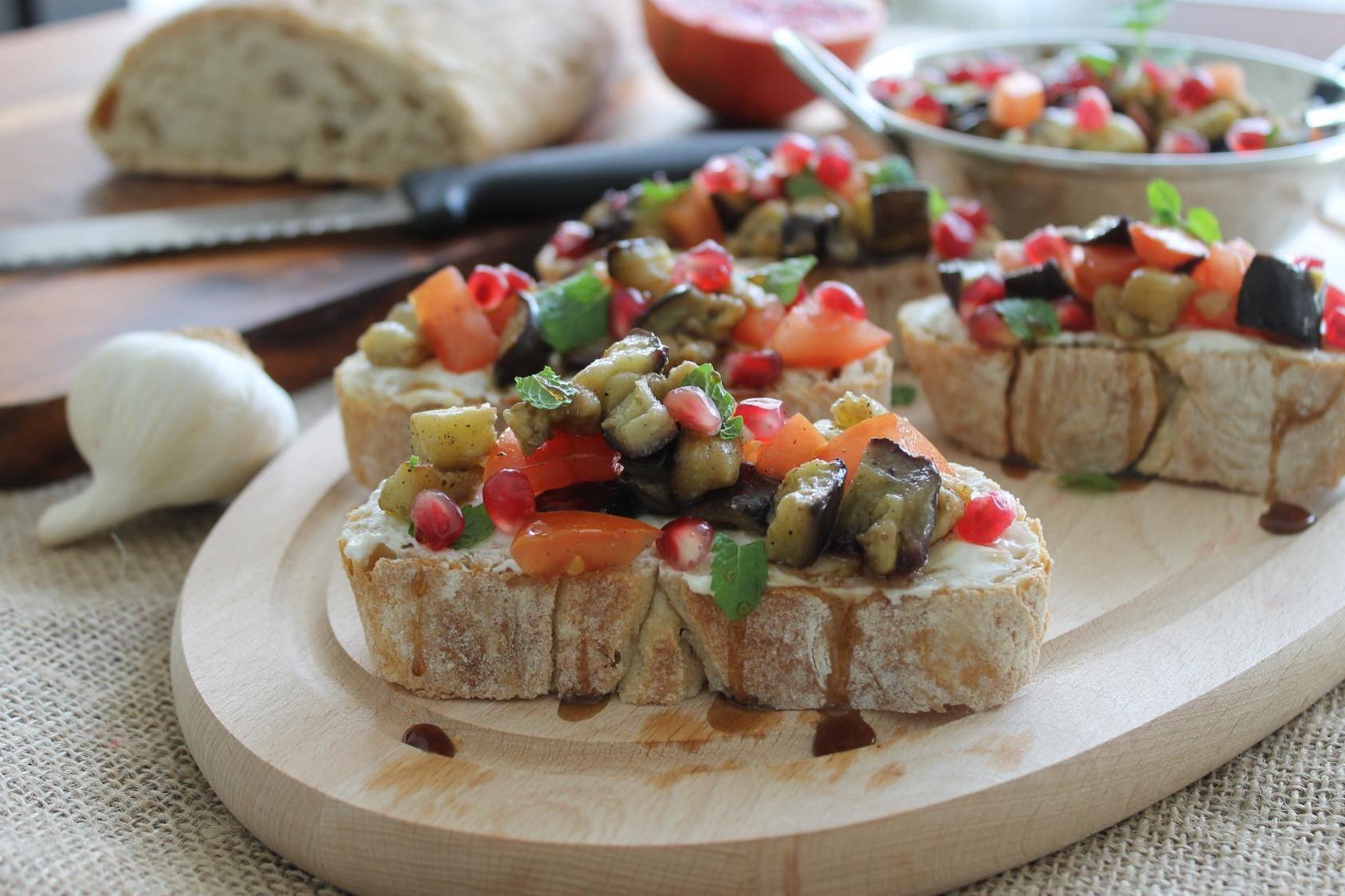 Perfect for brunch and casual gatherings, this roasted eggplant & labna bruschetta is a true crowd-pleaser! The flavours are simply irresistible!
Ingredients
1 large

eggplant - باذنجان رومي

a few drizzle

olive oil - زيت زيتون

2 medium

tomatoes (deseeded) - طماطم

2 medium

garlic clove (minced) - فص ثوم

1 handful

mint - نعناع

1/2 small

pomegranate seeds - بذور رمان

1 medium

bread (ciabatta or baguette) - خبز

200 gram

labna (or greek yogurt) - لبنة

1 drizzle

pomegranate molasses - دبس رمان

salt and pepper (to taste) - ملح و فلفل
Step by step
Preheat oven to 200C. Cut the eggplant (unpeeled) into small cubes. Drizzle with salt, pepper and olive oil. Toss them together and roast on an oven tray for 20- 30 minutes until soft and golden. You will need to toss the cubes every 10 minutes.
Cut the deseeded tomatoes into small cubes and place them in a bowl. Add fresh mint leaves, minced garlic, salt, pepper, and a drizzle olive oil.
Cut the bread into equal-sized slices, brush with a little olive oil and toast them in the oven. (If using good quality ciabatta bread, you can skip this step).
Spread the bread slices with labna.
Add the roasted eggplants to the tomato bowl and gently mix until well combined.
Arrange sliced bread on a serving plate and carefully spoon the eggplant-tomato mixture on top.
Scatter pomegranate seeds over the bruschetta, then drizzle with a little pomegranate molasses. Garnish with extra mint leaves and serve immediately.