Spinach & Cheese-Stuffed Chicken Breast with Tomato & Carrot Cream Sauce
By Yosra Shohayeb • February 21, 2016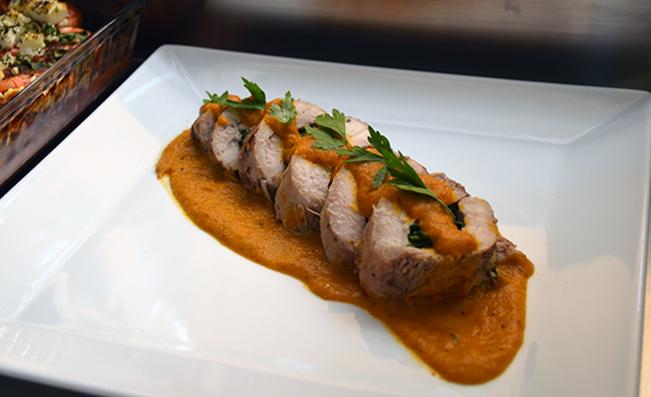 This recipe is the runner-up to #MyBestDish cooking competition.
This recipe is perfect for any occasion. It's super easy and tasty too! For #MyBestDish competition I chose to make spinach and cheese stuffed chicken with tomato and carrot cream sauce. The taste of the cheese and the sweetness of the sauce blend perfectly together; a match made in heaven! For this dish I chose grilled vegetables as my side (vegetables, olive oil, salt & pepper for 10 minutes in a pan). However, you're free to change your side to baked potatoes or pasta (which the sauce will complement perfectly). Give it a try and tell me how it went.
Ingredients
1 handful

spinach - سبانخ

2 tablespoon

feta cheese - جبنه فيتا

2 tablespoon

mozzarella cheese - جبن موتزاريلا

1 small

onion - بصلة

2 pinch

salt - ملح

2 pinch

black pepper - فلفل أسود

2 pinch

sumac - سماق

1 teaspoon

vinegar - خل

3 teaspoon

olive oil - زيت زيتون

3/4 cup

boiling water - ماء ساخن

1

chicken breast fillet - صدور فيليه الدجاج

SAUCE:

1 tablespoon

olive oil - زيت زيتون

1 tablespoon

butter - زبدة

2 large

carrots (chopped) - جزر

2

tomatoes (chopped) - طماطم

1/2

onion (chopped) - بصلة

1/2 teaspoon

oregano - أوريجانو/ زعتر

1/2 teaspoon

sugar - سكر

salt and pepper - ملح و فلفل

1

garlic clove - فص ثوم

1/2 cup

cooking cream - كريم الطهي
Step by step
Create a pocket in the top of the chicken breast with a thin knife. Reach the sides at the end with the knife without cutting through. Gently create a pocket for the stuffing.
Season chicken with salt, pepper, sumac, vinegar & 1 teaspoon olive oil. Leave in the fridge for 30 minutes to marinate.
In a medium pan, heat one tablespoon olive oil and fry 1/2 minced onion together with the spinach for about 3 minutes. Remove from heat and set aside.
After it cools, add feta cheese & mozzarella and mix until well-combined.
Gently stuff the chicken with the mixture making sure not to tear the chicken.
Close the chicken pocket opening with toothpicks. If chicken opens from any other sides, make sure to close it with toothpicks as well.
Heat one tablespoon olive oil in a pan. Add chicken then stir in 3/4 cup boiling water. Cover and leave for 20 minutes.
Remove this chicken sauce from the pan and set aside. Do not throw away, you'll need it later.
Add another tablespoon of olive oil. Fry the chicken on all sides for about 5 minutes.
Return the sauce to the chicken pan and bake in the oven. This step is important so the chicken is moist and juicy. Leave in the oven for 8 minutes (4 minutes each side).
Remove chicken from the oven and cut it into thick slices (as shown in the photo).
To prepare the tomato & carrot cream sauce: sauté sliced carrot in 1/2 tablespoon of butter and 1/2 tablespoon of olive oil over medium heat for 10 minutes. Add chopped onions, 1/2 tablespoon of olive oil and sauté for another 5 minutes. Add minced garlic, sugar, oregano and chopped tomatoes. Leave to simmer for 25 minutes. Blend the mixture in a food processor until smooth then use a sieve or colander to get rid of the extras. Gently warm the sauce over medium heat. Add cream, salt & pepper and the rest of the butter. Stir the sauce for 5 minutes and dilute it with some water if it's too thick. Spoon over the chicken and enjoy this mouth-watering dish.