Everyday Mushroom Risotto
By yasmine • March 29, 2015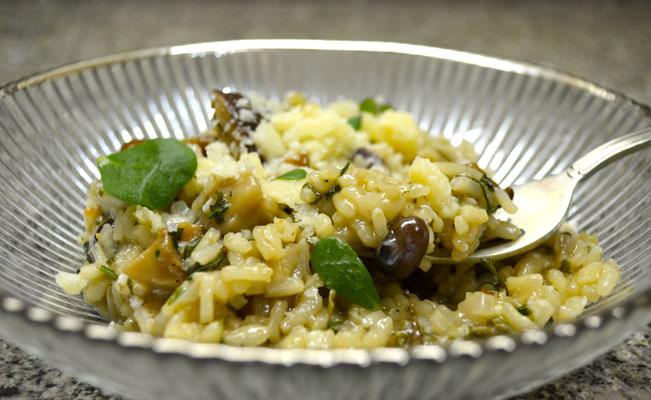 I used to get scared of risotto until I found my sister cooks it as a last minute dish when she was having people over! At that point I got it – if you have the right rice in the pantry (Egyptian chefs believe our simple white rice is the best risotto rice while it is known to be Arborio rice) – then you can make any flavoursome risotto with anything from just cheese to veggies like peas or asparagus to chicken or fish. This one is usually a winner since everyone loves mushroom and is a tasty and rich variation to your typical white rice.
Ingredients
2 cup

rice (preferably Arborio rice) - أرز

250 gram

mushrooms (cut in small quarters) - عش الغراب

2 tablespoon

olive oil - زيت زيتون

1 medium

onion (minced) - بصلة

3

garlic cloves (minced) - فصوص ثوم

4 to 5 cup

chicken broth/stock (OR vegetable broth) - مرقة دجاج

2 tablespoon

parsley (finely chopped) - بقدونس

1 tablespoon

butter - زبدة

salt and pepper - ملح و فلفل

½ cup

parmesan cheese (grated) - جبنة بارميزان
Step by step
In a large pan, heat olive oil and fry minced onions and garlic on medium heat for about 3 minutes. Then add diced mushrooms – keeping a handful aside. Stir the mix for another 4-5 minutes or until browned.
Stir in the rice making sure it is coated with the fat.
Make sure the broth is hot before you add about a ladle to the rice. When the liquid is absorbed, stir in another ladle of broth and let the rice absorb it. Be patient and continue adding the broth slowly, stirring lightly or shaking the pan until liquid is absorbed. Rice should become tender and plumb – taste to make sure it is cooked through. Otherwise, continue to add broth. This process should take about 30 minutes.
When rice is almost cooked, add the left- over mushrooms, chopped parsley, butter and salt and pepper and stir lightly. You can also add some of the Parmesan while the risotto is still on the heat.
Serve in a hollow plate and garnish with fresh parsley or basil and freshly grated Parmesan.