Classic Crepe
By shahdan • June 19, 2019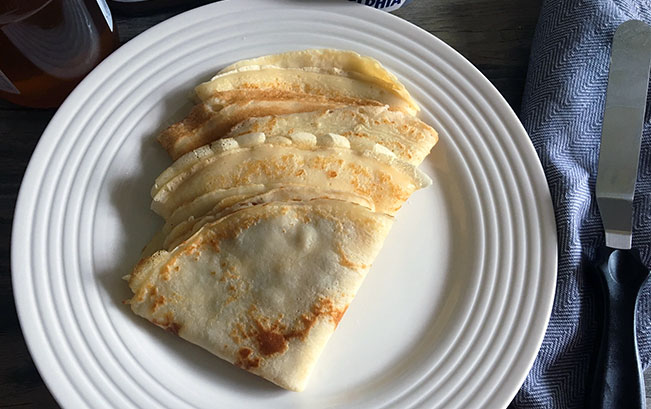 Some recipes are good to know by heart, like this Classic Crepe. It comes in handy in the weekends and school holidays when you want to prepare a fun breakfast for the family.
Fillings are a personal choice and the options are endless. For sweet crepe, these can be served with sugar, jam, Nutella, or for healthier alternatives, tahini & molasses mix,  raw honey, Halawa & Chocolate Spread and Homemade Date Syrup.
As for a savoury crepe, cream cheese is always a favorite, labna and olives, or melted cheddar cheese. This crepe also makes a great appetiser when filled with cream cheese, chives, and smoked salmon and sliced into bite size pieces.
Ingredients
1

flour cup - دقيق

2 medium

eggs - بيض

1/2 teaspoon

vanilla extract (optional) - خلاصة الفانيليا

1 pinch

salt - ملح

1 1/4 cup

full cream milk - لبن كامل الدسم

1 tablespoon

sunflower oil (plus extra for greasing the pan) - زيت عباد الشمس
Step by step
Place flour, eggs, vanilla and salt in a bowl. Whisk while adding milk gradually until you achieve a smooth yet thin batter.
Add the oil and whisk.
Preheat a non-stick pan over medium heat. Use a brush or an oiled kitchen tissue to brush the pan.
Use a ladle to pour the batter in the hot pan, while tilting the pan to create a thin layer on the base of the pan.
Leave the crepe to cook and try not to flip until edges create bubbles and start cooking.
Use a flat turner to help you lift the crepe from the edges, if it is golden on the bottom side, then gently flip the crepe. Cook crepe on the other side until golden then transfer to plate and cover until serving. Repeat with the remaining batter.
Serve warm with your favourite filling.