Rustic Cheese Tart
By shahdan • November 5, 2015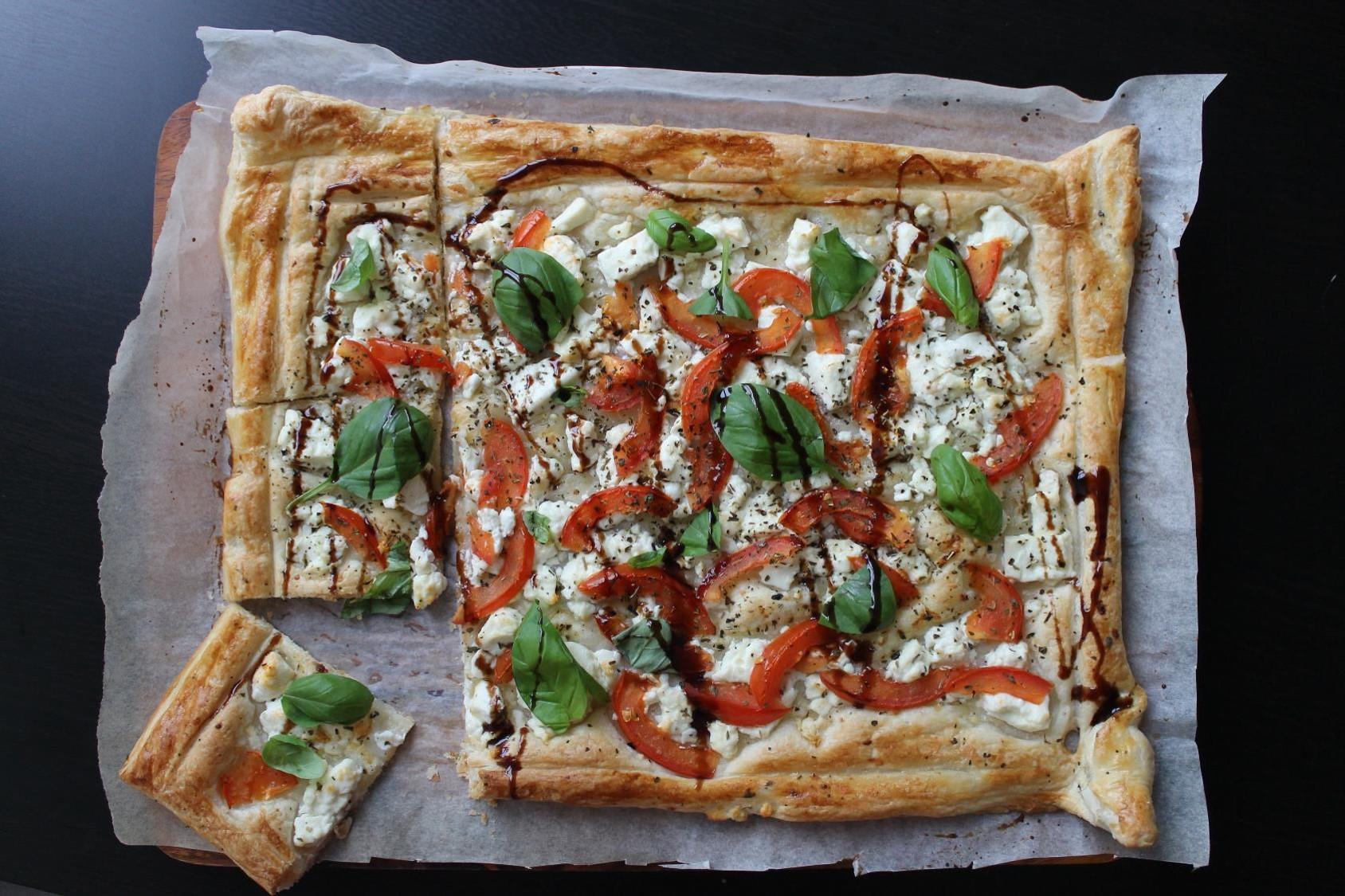 This cheese tart makes a sophisticated yet easy entertaining dish that you can prepare and bake in less than 30 minutes. It is also an incredibly versatile recipe that you can play with, and make it your own. Just use the same technique to prepare the tart, and experiment with your favourite toppings!
If you are using Balsamic glaze, why don't you try CairoCookings homemade Balsamic Glaze.
Ingredients
1 pack

puff pastry (400 g) - عجينة الباف باستري

1 handful

flour (for dusting) - دقيق

1 tablespoon

extra virgin olive oil - زيت الزيتون بكر

1 large

garlic clove (crushed) - فص ثوم

200 gram

feta cheese (good quality greek feta) - جبنه فيتا

2 medium

tomato (thinly sliced) - طماطم

1 teaspoon

oregano (or thyme) - أوريجانو/ زعتر

1 small

egg (to brush edges) - بيضة

1 handful

basil - ريحان

1 drizzle

balsamic glaze/ reduction (optional) - مركز الخل البلسمي
Step by step
Make sure your puff pastry is thoroughly defrosted before you start.
Preheat the oven to 180C. Line your tray with parchment paper using a little oil on the tray so the paper sticks into place.
Lightly dust your working surface and your rolling pin with flour. Roll out the dough into a rectangle shape to fit the size of your tray. It does not need to be perfect at all. Carefully move the dough to the tray.
Use a knife to gently score a 1 cm border around your pastry. Using a fork, pierce the middle a few times.
In a small bowl, mix 1 tablespoon olive oil with 1 crushed garlic clove, then brush the pastry with the oil and garlic, leaving out the borders clean.
Crumble the feta cheese and spread them within the border. Spread the tomatoes on top of the cheese and sprinkle oregano on top.
Lightly brush the borders with a little beaten egg.
Bake for 10- 15 minutes until nice and golden.
Carefully move your tart to your serving board or dish. Sprinkle fresh basil on top and add a drizzle of balsamic reduction. Best served warm.