Roasted Red Pepper Chicken Fillets
By yasmine • May 27, 2017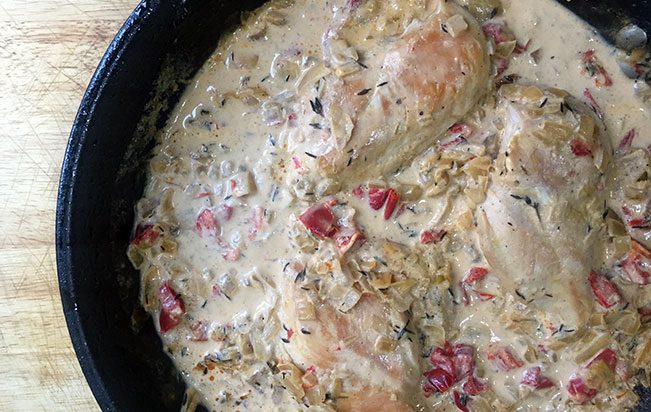 This roasted red pepper chicken recipe is just so easy and so yum! Ready in less than 30 minutes, this chicken dish is creamy and filling served next to rice. You can also shred the finished chicken and serve it along with its creamy sauce over cooked pasta. Your family and friends will definitely enjoy this take on chicken fillets.
Ingredients
4

chicken breast fillet - صدور فيليه الدجاج

2 large

red peppers - فلفل أحمر

1 large

onion (diced) - بصلة

3

garlic clove (minced) - فص ثوم

3 tablespoon

olive oil (divided) - زيت زيتون

3/4 cup

cooking cream - كريم الطهي

3/4

hot water - ماء ساخن

generous

salt and pepper - ملح و فلفل
Step by step
Season chicken fillets with salt and pepper and let it marinate for a few minutes.
Cut red peppers in half and clean out the inside. Smear it with 1 tablespoon olive oil and put it on oven tray skin-side up. Place it in the oven for 15 minutes at 180C.
In the meantime, drizzle olive oil in a large pan over medium heat. Place chicken fillets in the pan and sear it for 5 minutes on each side. Set aside.
Using the same pan, fry minced onions, and garlic for 5 minutes on medium heat. Peel and dice roasted red peppers and add them to onions and stir. Then add hot water, cooking cream and salt and pepper. Stir and let it simmer for a couple of minutes.
Add the chicken and cover the pan to finish cooking. Serve it hot next to rice or shred the chicken for a pasta sauce.