Mahshi Mesh Mahshi
By shahdan • January 10, 2016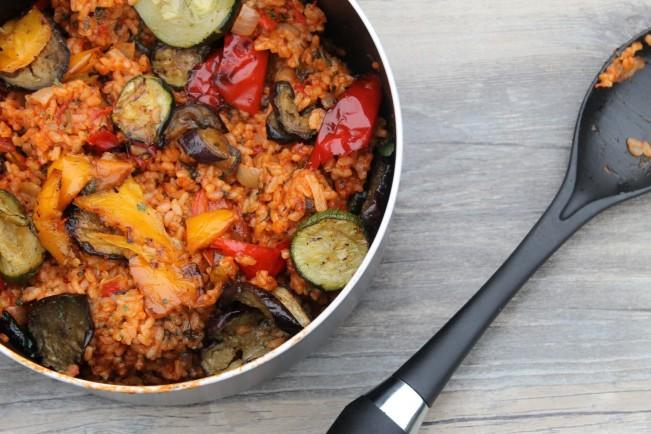 I don't find Mahshi that interesting for dinner parties, therefore I decided to take the best recipe I know, and turn it into something more exciting: Mahshi -mesh Mahshi. Not only is it much easier to prepare, but it is also more modern and cheerful! If you read the amount of veggies and greens that go into mahshi, you will fall in love with that Egyptian classic all over again.
Every Egyptian household has its own unique mahshi recipe. Having tried so many, I can confidently argue that the original recipe used for this dish is by far the best I ever tried. The recipe is by a wonderful Egyptian home cook, Neamat, who masters these beautiful typical Egyptian dishes. But Mahshi is definetly her specialty – the flavors are simply impeccable. When you eat it, you can definetly taste the amount of passion and love put into it.
Ingredients
2 large

onions (minced) - بصل

2 tablespoon

butter - زبدة

2 tablespoon

vegetable oil - زيت نباتي

1/2 kg

tomatoes (blended & sieved) - طماطم

3 tablespoon

tomato paste - معجون طماطم / صلصة طماطم

2 cup

rice (for this specific recipe we use 1.5 mugs) - أرز

1 tablespoon

pomegranate molasses - دبس رمان

1 bunch

parsley (finely chopped) - بقدونس

1 bunch

coriander (finely chopped) - كزبرة

1 bunch

mint (finely chopped) - نعناع

1 teaspoon

salt - ملح

1/2 teaspoon

black pepper - فلفل أسود

1/2 teaspoon

ginger powder - بودرة جنزبيل

1.5 cup

chicken broth/stock (OR vegetable stock) - مرقة دجاج

1/2 kg

eggplant - باذنجان رومي

1/4 kg

zucchini - كوسة

1/4 kg

bell pepper - فلفل ملون

1 drizzle

olive oil - زيت زيتون

1/4 teaspoon

garlic powder - بودرة ثوم
Step by step
To prepare the vegetables, cut the eggplants, zucchini and bell peppers into medium thick slices, drizzle with olive oil, salt and garlic powder and arrange on a baking tray. Bake in a 200C preheated oven, turning occasionaly until nice and soft (around 30 min). You may need to use your oven grill. Cover and set aside.
To prepare the rice, sauté onions in oil and 1 tablespoon butter over medium heat until soft.
Add fresh tomato juice and tomato paste and leave to simmer over low heat for 10 minutes.
Stir in washed rice and cook over very low heat while stirring until it absorbs the tomato juice. It is not cooked yet but turn off the heat.
Add pomegranate molasses, finely choppped coriander, mint and parsely, followed by salt, pepper, and ginger powder. Mix well.
To cook the rice through, add stock and 1 tablespoon of butter (optional), cover and leave to cook over the lowest heat until cooked through. (You might need to to add extra stock.)
When the rice is cooked, add the roasted veggies and use a fork to gently fluff up the rice with the veggies. Leave to cook for further 5-10 minutes. Serve hot.