Pizza Pinwheels
By shahdan • April 28, 2016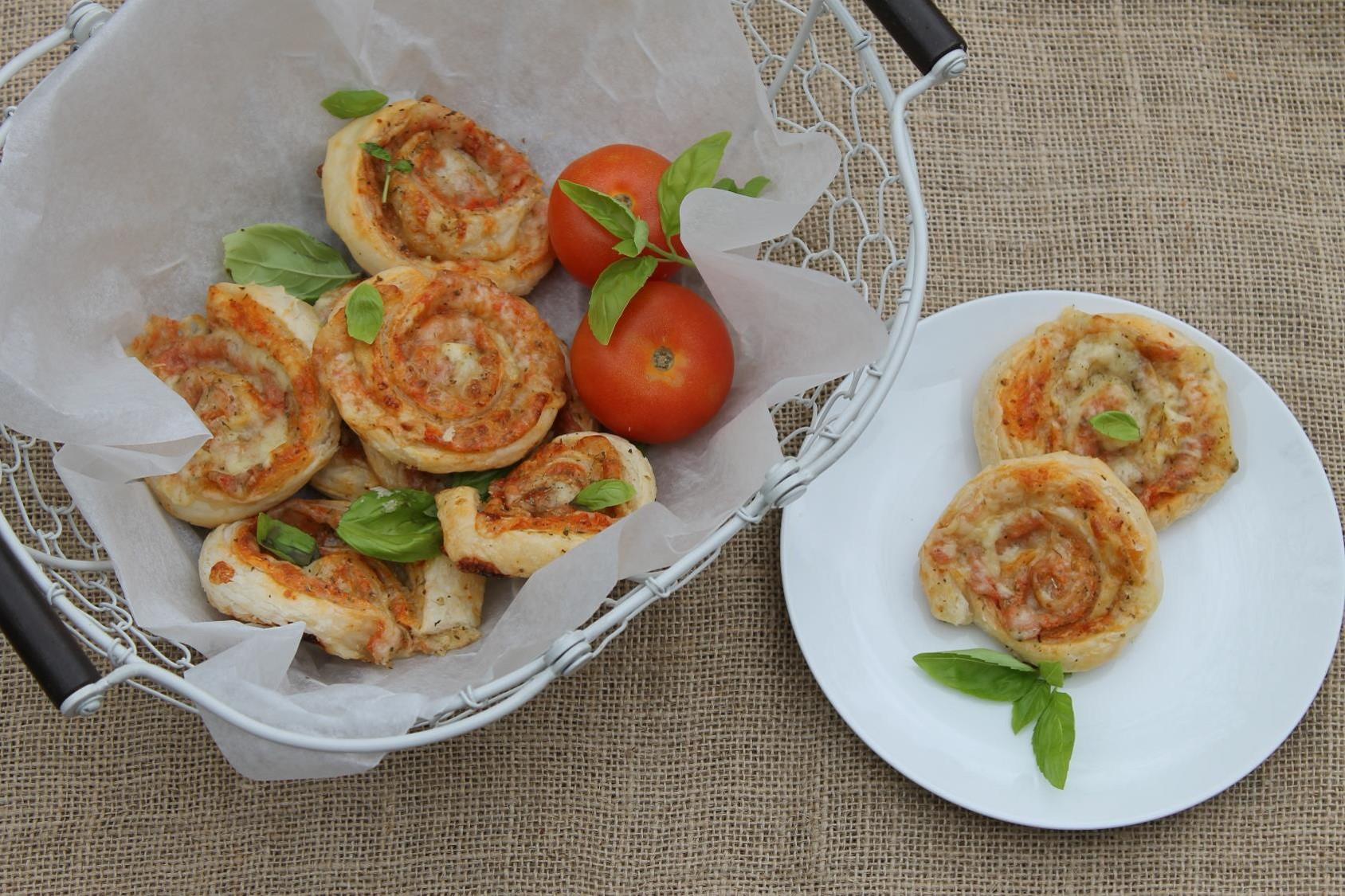 My friend prepared these for a kids party and they were a big hit! Both, kids and grown ups, loved them. Pizza pinwheels are also perfect for lunchbox and on the go! My kids love them and they enjoy baking them with me.
This recipe yields 12 pieces.
Ingredients
1 pack

puff pastry (400 gram) - عجينة الباف باستري

2 tablespoon

flour (for dusting) - دقيق

2 small

tomato - طماطم

1 tablespoon

tomato paste - معجون طماطم / صلصة طماطم

1 cup

cheese (grated mozzarella and cheddar) - جبن

1 teaspoon

oregano - أوريجانو/ زعتر

1 small

egg - بيضة

1 handful

basil - ريحان
Step by step
Before you start, make sure the puff pastry is fully defrosted. Preheat oven to 180C. Line a baking tray with parchment paper and set aside.
To make the pizza sauce, chop tomatoes and blend them in a small food processor with the tomato paste until you reach a thick pizza sauce consistency. Set aside.
Lightly dust your working surface and rolling pin with flour. Roll out puff pastry into a rectangle shape (about 35x25 cm). The shape does not need to be perfect.
Spread the tomato sauce over the dough (leaving 1cm borders clean). Don't use all the pizza sauce if you feel it is more than you need.
Sprinkle the cheese and the oregano over the tomato sauce.
Place the pizza vertically towards you, and roll up the dough from one end as tight as you can. For best results, cover and leave in the fridge for 15 minutes.
Using a sharp knife, slice the dough into two, then slice each half into two so you end up with four equal-sized rolls. Cut each into three circles to have a total of 12 identical pinwheels.
Arrange pinwheels on baking tray circle down making sure there is enough space between them. In a small bowl, beat the egg, and lightly brush the surfaces of pinwheels with eggs.
Bake for 15 minutes or until golden.
Let the baked pizza pinwheels cool for a few minutes, then arrange them on a serving dish and garnish with fresh basil.