Lemony Okra with Garlic & Coriander
By shahdan • May 25, 2015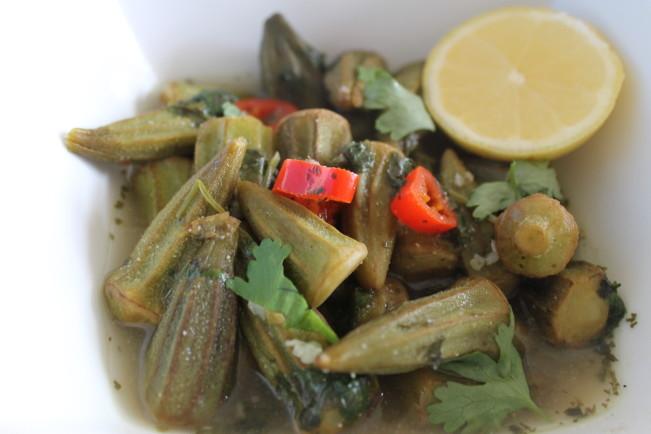 This is one of my very favorite home recipes! Unlike the traditional okra cooked with tomato sauce, this okra is light, refreshing and perfect for spring and summer time!
Ingredients
400 gram

okra or (1 frozen pack) - بامية

4 large

garlic cloves (crushed) - فصوص ثوم

1 teaspoon

ground coriander - كسبرة ناشفة

400 ml

vegetable stock (or chicken stock) - مرقة خضار

1 handful

coriander - كزبرة

2 large

lime (or more) - ليمون بلدي

1 tablespoon

olive oil - زيت زيتون

to taste

salt and pepper - ملح و فلفل
Step by step
If using fresh okra, peel and prepare it.
In a sauce pan, add the ground coriander and crushed garlic to the olive oil over a low heat for half a minute. Make sure not to burn the garlic.
Stir in the vegetable (or chicken) stock.
Add the okra (if frozen, straight from the bag after a quick wash), a bunch of finely chopped fresh coriander, the juice of two limes, salt and pepper to taste and sliced red chili pepper (without the seeds) if you like your food a little spicy.
Cover and leave to simmer over low heat until the okra is cooked. It will depend on the size of okra, but it'll need an average of 15 minutes.
Add more chopped fresh coriander before serving. Serve with white rice or with wholesome baladi bread… and add more lime juice to taste!