Mexican Chicken Fajitas
By shahdan • May 31, 2017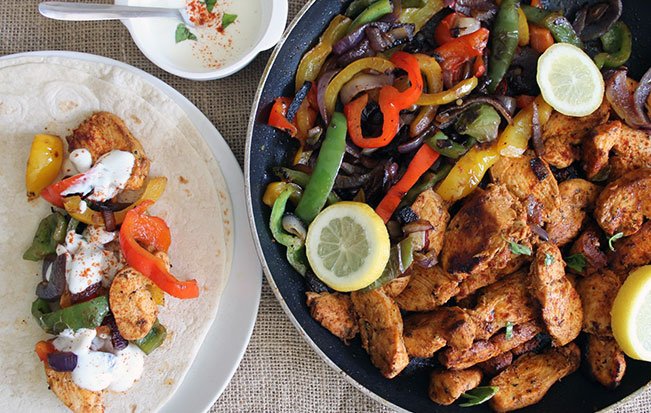 A platter of Mexican Chicken Fajitas served with tortillas, guacamole and sour cream is always a fun & filling meal for everyone on a weekday, and a big hit for casual friends' get-togethers. It is easily prepared in 30 minutes and does not require fancy ingredients.
For best results, marinate the chicken overnight.
Ingredients
4 large

chicken breast fillet (cut into large strips) - صدور فيليه الدجاج

2 teaspoon

paprika (smoked paprika) - بابريكا / فلفل أحمر

1 teaspoon

oregano - أوريجانو/ زعتر

1/2 teaspoon

garlic powder - بودرة ثوم

1/4 teaspoon

ground cumin - كمون

1/4 teaspoon

chili powder (optional) - شطة مطحونة

4 tablespoon

olive oil - زيت زيتون

1 medium

lime - ليمون بلدي

3 medium

bell peppers (yellow, green and red) - فلفل ملون

3 medium

red onions - بصل أحمر

salt and pepper (to taste) - ملح و فلفل

8 medium

tortilla bread - خبز التورتيلا

1/2 cup

sour cream (to serve) - قشدة حامضة
Step by step
To prepare the chicken marinade, mix 3 tablespoons olive oil with paprika, oregano, garlic powder, cumin, chili powder and lime juice. Sprinkle chicken strips with salt and pepper then place it in the marinade mixture. Cover and refrigerate for an hour or for best results overnight.
Cut onions and peppers into medium thick slices and set aside.
To cook the chicken, place a large pan or griddle pan on high heat. Grill chicken strips on all sides until golden and cooked through. Make sure not to overcrowd your pan.
In a separate pan, heat 1 tablespoon olive oil and sauté onions and peppers on high heat until peppers are a little soft and onions are browned on the edges. Season with salt and pepper.
In a large serving platter, arrange chicken alongside the cooked veggies. Serve next to tortillas and sour cream.