Mediterranean Vegetable Quinoa Salad
By shahdan • February 19, 2017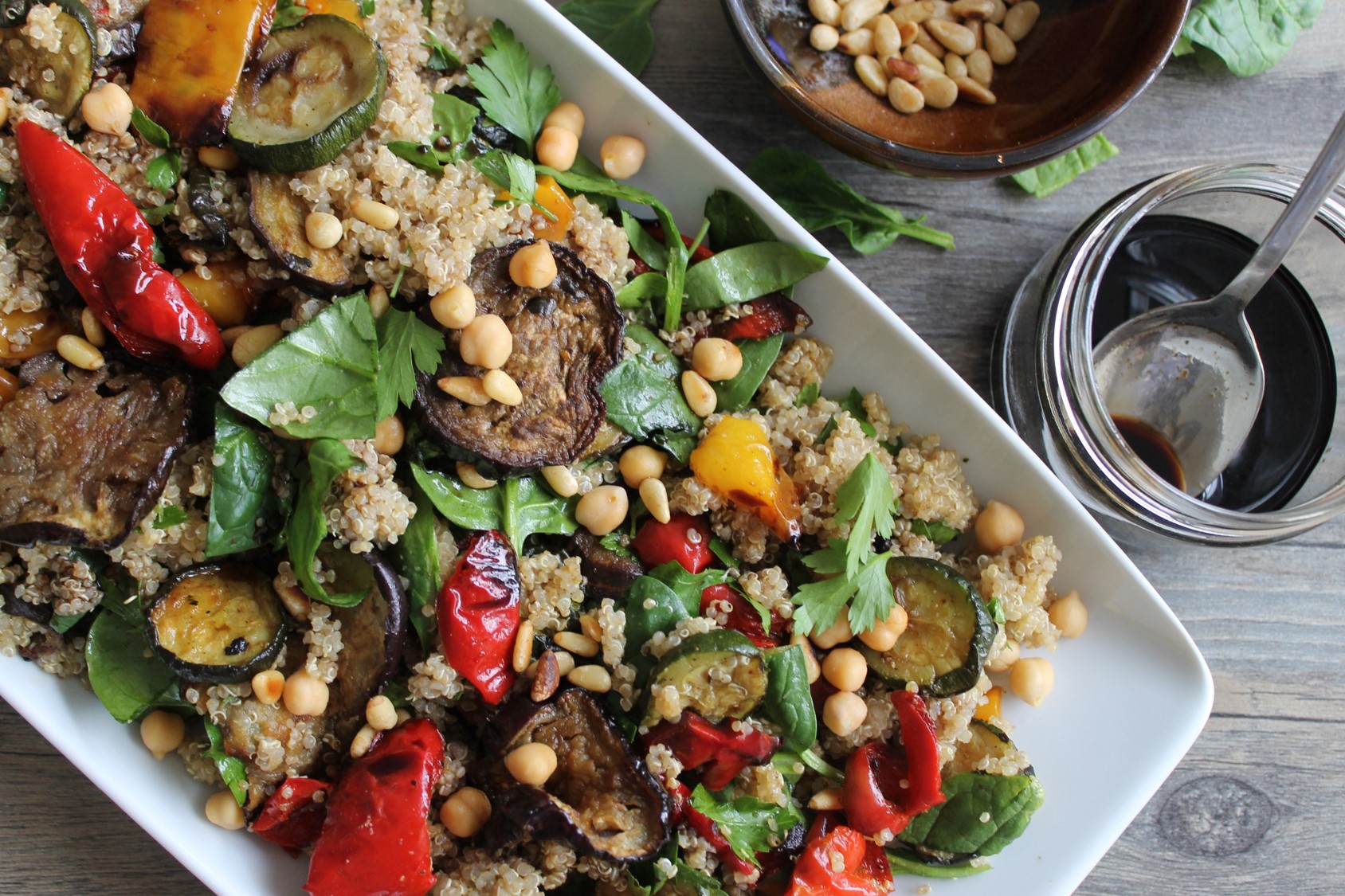 The Roasted Mediterranean Vegetable Quinoa is a perfect warm salad, side dish to your favourite protein, or a main vegan dish on its own. It is also a great option for the lunchbox. It is packed with super nutritious everyday ingredients and full of different textures, and deep flavours leaving you craving for more.
Ingredients
1 large

eggplant (sliced) - باذنجان رومي

2 medium

zucchini (sliced) - كوسة

2 large

bell peppers (red & yellow) - فلفل ملون

2 tablespoon

olive oil - زيت زيتون

2 medium

garlic cloves (minced) - فصوص ثوم

1 cup

quinoa - كينوا

2 cup

water - ماء

2 tablespoon

pine nuts - صنوبر

2 tablespoon

parsley (chopped) - بقدونس

1 handful

baby spinach (or regular baladi spinach) - سبانخ صغيرة

1/2 can

chickpeas (half 400 gram can) - حمص

DRESSING:

4 tablespoon

balsamic vinegar - الخل البلسمي

2 tablespoon

pomegranate molasses - دبس رمان
Step by step
Slice the eggplants and zucchini into medium-thick circles. Cut bell peppers into strips. Mix olive oil with sea salt, freshly cracked black pepper and minced garlic. Rub cut veggies with the olive oil mix.
Arrange the veggies as a single layer on a roasting pan and place in a 180C oven for 30 minutes, turning the veggies half way through, until soft.
Wash quinoa, then place it in a medium pot covered with water and bring it to a boil. When it boils, lower heat to a minimum, cover and leave to simmer for 15 to 20 minutes. It is done when the water is absorbed and the quinoa is tender and fluffy. Set aside to cool.
In the meantime, toast pine nuts in a dry pan on medium heat for about 3 minutes, shaking the pan occassionaly. Set aside.
To prepare the dressing, mix balsamic vinegar with pomegranate molasses in a small jar and shake.
Make sure roasted vegetables and quinoa have cooled a little before assembling so the spinach and parsley stay green and fresh.
Place quinoa in a large bowl. Add roasted vegetables, chickpeas, chopped parsley and hand-torn spinach. Gently mix. Drizzle dressing, and sprinkle pine nuts on top.