Light Vegetarian Moussaka
By yasmine • April 5, 2016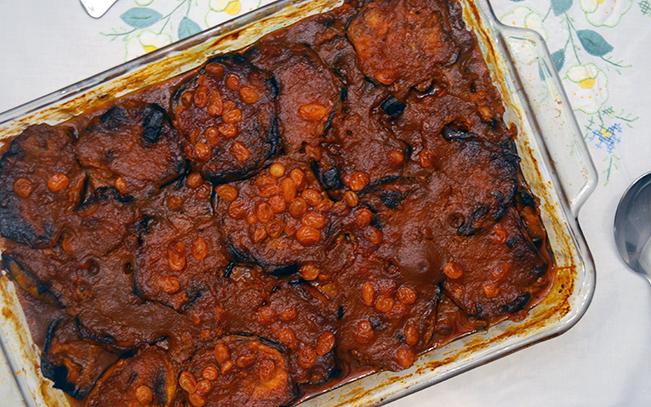 A simple meatless version of our classic Moussaka. The homemade tomato sauce tastes divine with a touch of cinnamon that complements the sweetness of the tomatoes making the sauce absolutely delicious. The eggplants are cooked to perfection without the extra oil, while the raisins bind all flavours together to give you the lightest and most flavourful Egyptian Moussaka.
Ingredients
1 kg

tomato (peeled & cut in chunks) - طماطم

1 large

onion - بصلة

3

garlic clove (minced) - فص ثوم

5-6 tablespoon

olive oil - زيت زيتون

1 kg

eggplant (cut in thin round slices) - باذنجان رومي

2

bay leaves - ورق لاورا

salt and pepper - ملح و فلفل

1 tablespoon

oregano (chopped) - أوريجانو/ زعتر

1 teaspoon

cinnamon powder - قرفة

1 handful

raisins - زبيب
Step by step
In a medium pot, heat only 2 tablespoons olive oil and fry minced onions for about 5 minutes then stir in minced garlic.
In the meantime, blend tomatoes into juice and add it to the pot. Add hot water, salt & pepper, oregano, cinnamon and bay leaves. Bring to a boil, then lower heat and cover.
Let it simmer for about 25 to 30 minutes or until the tomato sauce thickens. Discard the bay leaves.
In the meantime, heat the rest of the olive oil and pan-fry the eggplants for 2 minutes on each side or until slightly golden. Place them on kitchen paper to absorb excess fat.
Preheat oven to 180C.
To layer the moussaka, cover one 30cm round or 20x40cm rectangular oven dish or pyrex with a layer of eggplants. Pour half the tomato sauce on top of the eggplant layer and sprinkle half the raisins. Add another layer of eggplant slices followed by the rest of the tomato sauce and raisins.
Place the oven dish in the oven for 20 minutes to cook the eggplants through. Serve it warm or cold next to rice or some baladi bread.