Lentil & Beetroot Salad
By yasmine • January 11, 2018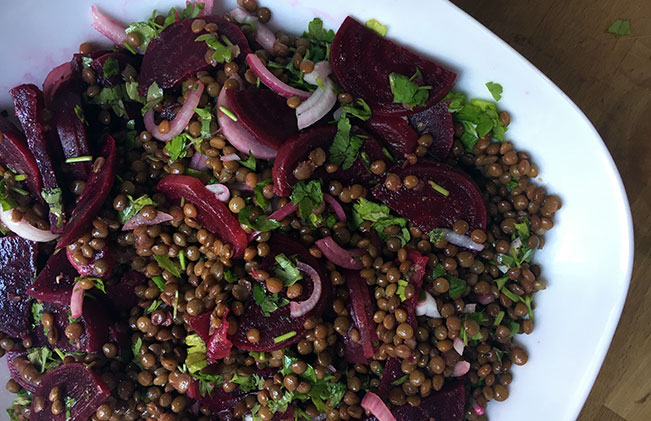 This simple lentils & beetroot salad is wholesome and filling during winter and summer. It's a great for post-workout or late night snack. The lentils also hold themselves well for your lunchbox in case you're on the go.
Ingredients
2 cup

brown lentils - عدس بني

1/2 kg

beetroot - بنجر

1

red onion (thinly sliced) - بصلة حمراء

1 handful

parsley (finely chopped) - بقدونس

2 tablespoon

vinegar - خل

2

garlic clove (sliced) - فص ثوم

1

onion (cut into chunks) - بصلة

salt and pepper - ملح و فلفل

1 teaspoon

ground cumin - كمون

3 tablespoon

olive oil - زيت زيتون

1

lime (juiced) - ليمون بلدي
Step by step
Wash lentils and place it in a medium pot. Cover with water. Add onion chunks, garlic, salt & pepper, and cumin. Bring to a boil then lower heat and let it simmer for 30 minutes or until cooked through but not mushy.
In the meantime, add whole beetroot to a medium pot and cover it with water. Bring it to a boil then let it simmer until beetroot is cooked through.
Put sliced red onions in a small bowl with vinegar for 10 minutes before using.
Scoop cooked lentils out of the water and place it in a salad bowl. Discard of onion and garlic.
Peel cooked beetroot and slice it in half circles. Season with salt & pepper then add it to the lentils. Drain sliced red onions and add to lentils. Sprinkle chopped parsley.
Drizzle olive oil and lime juice. Stir the salad and adjust seasoning to taste. Serve warm or cold. It can last up to 3 days in the fridge where the taste gets better.