Garlic & Vinegar Slow-Cooked Lamb: Lamb Vindaloo
By Nancy Hany • November 30, 2015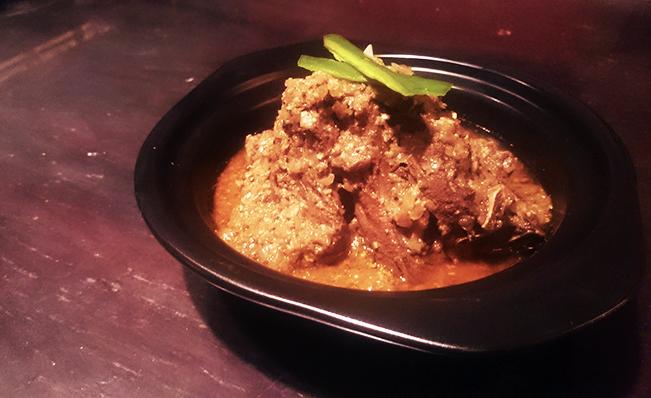 This recipe is an entry to the #TheMeatCompete challenge which closes Dec 5, 2015. Click here to find out how you can take part.
This recipe comes from Goa, India. The name Vindaloo is comprised of two words, Vind translates directly to Vinegar (in Hindu) and Aloo which means Garlic (in Portuguese). This is a very tasty dish, finger licking good as my husband puts it.
The level of fiery red color of it depends on the type of chili used and the quantity of it, I toned down the spiciness of the dish in this recipe but you can add more chili if you're brave enough. Traditionally, it is made with Goan vinegar, but since this coconut vinegar isn't available in Egypt, I substituted it with a mix of apple vinegar and white vinegar.
You can make this recipe with most cuts of lamb or beef or chicken – just adjust the cooking time accordingly, I've made mine with lamb riblets. Don't be intimidated by the marination time, the final flavors are worth it. It's a perfectly warm dish for a cold evening.
Ingredients
1 kg

lamb - لحم ضانى

2 large

onions - بصل

6 piece

garlic clove - فص ثوم

2 piece

fresh ginger - جنزبيل

6 piece

cloves - قرنفل

2 tablespoon

cumin seeds - حبات الكمون

2 tablespoon

turmeric - كركم

1 piece

cinnamon sticks - عيدان قرفة

1 tablespoon

black peppercorns - حبوب فلفل أسود

6 teaspoon

chili powder - شطة مطحونة

2 tablespoon

vegetable oil - زيت نباتي

8 tablespoon

apple cider vinegar - خل حمض تفاح

8 tablespoon

vinegar - خل
Step by step
Trim your lamb ribs and pat them dry with a paper towel, place them in a large zip lock freezer bag.
In a dry pan, add the whole spices (cumin, black peppercorns and the cinnamon stick) toast for a few seconds until fragrant. Then grind them into powder either with a pestle and mortar or a grinder.
In food processor, blend the garlic, ginger, the powdered spice mix, turmeric, chili powder with two tablespoons vinegar. It should form a paste.
Add the paste to the lamb in the zip lock bag and add an additional two tablespoons of apple vinegar and rub it well onto the ribs.
Seal the zip lock bag and leave it in the refrigerator to marinate for at least 6 hours, preferably overnight.
Before cooking, blend onions in the food processor. In a large pot heat the oil, add onions and the lamb ribs to cook (save the leftover marinade in the zip lock bag) for 2 minutes turn around in between.
Add hot boiling water until it covers the meat with the remainder of the marinade and the rest of the vinegar and salt to taste. Once it's boiling, decrease the heat to a low simmer and cover with the lid.
The lamb ribs should be cooked in an hour to 75 minutes. For a thicker gravy sauce, remove the lid of the pot after the meat is cooked and turn up the flame till you have a constant boil for 10 minutes or depends on how thick you like your sauce.
Serve with white long grain rice or flat bread.