Soggo' Baladi with Pomegranate Molasses
By yasmine • April 8, 2015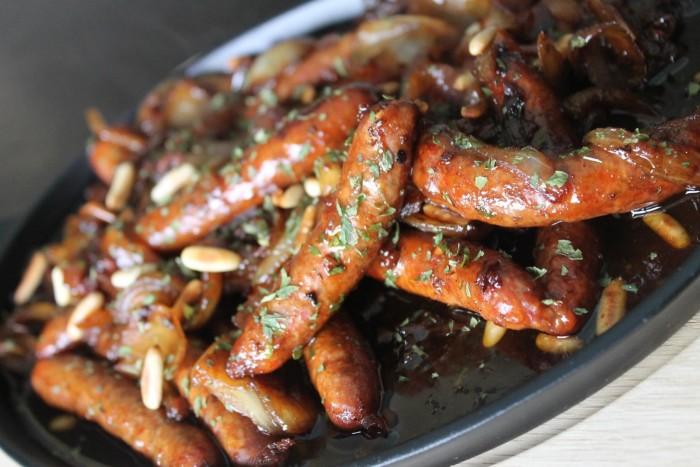 With a crunchy bite and creamy sweetness from the molasses, this Soggo' Baladi with Pomegranate Molasses is a must try! You can serve it with mini pitas and serve it to your guests as an appetizer.
Ingredients
500 gram

sausages (baladi & non-spicy - slice if too large) - سجق- سوسيس

2 tablespoon

olive oil - زيت زيتون

2 medium

onions (thinly sliced) - بصل

3

garlic cloves (minced) - فصوص ثوم

4 tablespoon

pomegranate molasses - دبس رمان

2 tablespoon

pine nuts (toasted) - صنوبر

1/2 cup

boiling water - ماء ساخن

1

lime (juiced) - ليمون بلدي

handful

parsley (finely chopped) - بقدونس
Step by step
Heat 1 tablespoon olive oil in a large skilled. Make sure the pan is hot, add the sliced soggo' and stir it until it is fried on all sides (about 8 minutes). It doesn't need to be cooked-through yet.
Remove the soggo', heat another tablespoon of olive oil to the same pan. Add sliced onions and minced garlic and let them sauté until softened.
Add pomegranate molasses and hot water. Make sure to scrape the burned soggo' bits from the pan while you stir all together.
As it comes to a simmer, add the soggo' back to cook for another 10 minutes.
In the meantime, toast pine nuts in a small pan for a couple of minutes over medium heat.
As the soggy' sauce thickens, transger into serving dish, sprinkle with toasted pine nuts and finely chopped parsley. Serve hot.