Kebda Baladi
By yasmine • June 1, 2017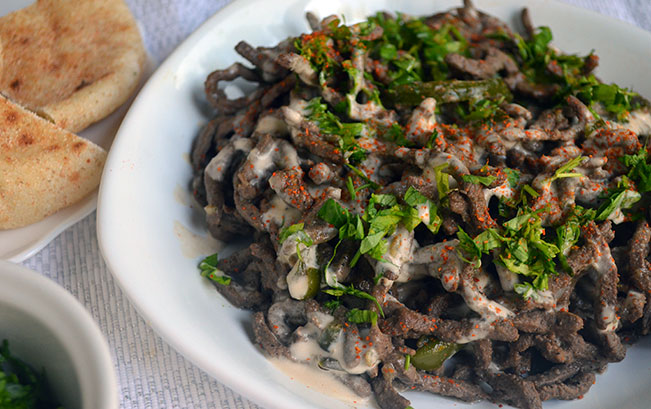 This Kebda Baladi recipe is by far the easiest recipe ever! It takes less than 20 minutes and you won't even need to chop onions for this dish.
Ingredients
500 gram

liver (thinly sliced) - كبدة

2

green peppers (thinly sliced) - فلفل أخضر

generous

salt and pepper - ملح و فلفل

3

garlic clove (minced) - فص ثوم

2 teaspoon

ground cumin - كمون

1/2

green chili pepper (chopped OR chili powder to taste) - فلفل أخضر حار

2 tablespoon

vinegar - خل

1/2

lime (juiced) - ليمون بلدي

1 tablespoon

parsley (chopped) - بقدونس
Step by step
In medium bowl, place washed livers and add cumin, salt and pepper, garlic and vinegar and let it marinade for 15 minutes.
Heat olive oil in a large pan and fry the sliced green peppers and chili if using any for 5 minutes (you can also use chili powder and add it at the end of the cooking time).
Add the liver with all its sauce and stir to make sure it is equally distributed in the pan. Keep the heat at medium and stir occasionally for 10 minutes or so until livers are cooked through. You make add a couple of spoons of water if you feel the liver is getting dried out.
Squeeze half a lime over it and serve it warm. Drizzle with Tahini and chopped parsley. You can eat it with rice or baladi bread and more Tahini!