Ice Cream Cookie Cups
By Marilyn Rizkallah • January 15, 2016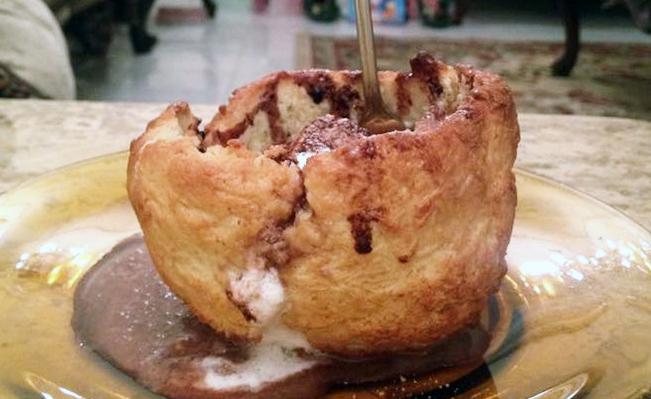 Whether you're a fan of freezing ice cream on cold winter nights or not, you'll love this one!
Ingredients
1/2 cup

butter (melted - PLUS some more for brushing the baking tins) - زبدة

2 medium

eggs - بيض

3/4 cup

brown sugar - سكر بني

3/4 cup

sugar - سكر

3/4 teaspoon

vanilla extract - خلاصة الفانيليا

2 1/4 cup

all purpose flour - دقيق أبيض

3/4 teaspoon

baking powder - باكينج باودر

1 teaspoon

salt - ملح

chocolate chips (optional) - قطع شوكولاتة صغيرة

ice cream - أيس كريم

chocolate sauce (to taste) - صوص الشيكولاتة
Step by step
Whisk melted butter with the sugar, vanilla and eggs with a handheld mixer or using a whisk.
In a seperate bowl, mix flour, salt and baking powder.
Gradually, add the dry ingredients to the wet ingredients and mix further until all the ingredients are combined. Mix in the chocolate chips at the end (if you're using any) and make sure they are evenly distributed.
Preheat the oven to 220C.
To bake, brush about 5 individual pyrex glasses with butter or coconut oil from the inside to avoid the dough sticking while baking.
Divide the dough and carefully spread it out inside the glasses to make even cup shapes.
Place the cups in the oven until nice and crispy on the outside and tender on the inside (about 8-10 minutes).
Once out of the oven, allow them to cool another 10 minutes before carefully detaching the cookie cups. Fill with your favourite ice cream and drizzle with a generous amount of chocolate sauce. Bon Appetit!