Buttery & Easy Ghorayeba
By yasmine • July 4, 2015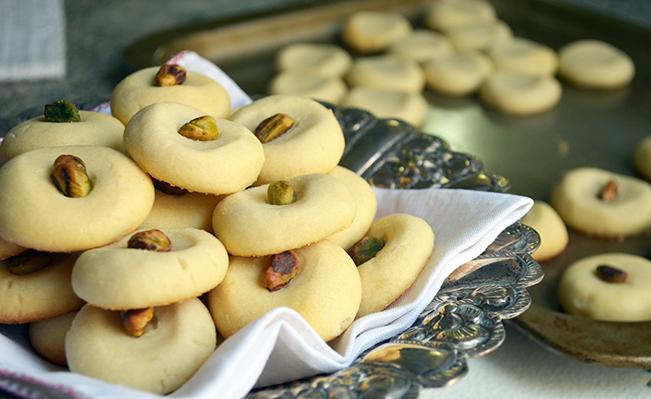 This buttery Ghorayeba (traditional Eid cookies)  is relatively easy to achieve at home. It is the type of recipe that can impress your whole family and will allow you to send all your friends an edible Eid gift to die for!
You will need a strong food processor or handheld mixer and you need to pay attention to 3 main points to perfect it –
creaming the butter/sugar mix until fluffy,
gradually adding the last cup of flour to have full control over the dough and to make sure it stays buttery and smooth
AND always keeping an eye on the Ghorayeba while it is in the oven to make sure it stays white yet baked through.
Ingredients
3 cup

butter (600 grams - at room temperature) - زبدة

2 cup

icing sugar - سكر بودرة

4 cup

flour - دقيق

1 large

egg whites - بياض بيض

1/2 teaspoon

vanilla extract (OR 1/4 lime zest) - خلاصة الفانيليا

pinch

salt - ملح

1/3 cup

pistachios (raw - optional) - فستق
Step by step
Cut butter into smaller cubes and place it in the food processor. You can use a handheld mixer but a strong food processor is preferable for creaming butter since it is more consistent. Add sugar and blend on medium power for about 2 minutes. The mix should be light and fluffy and get lighter in color. This step is very important to give the Ghorayeba that melt-in-your-mouth buttery taste.
Add egg white and vanilla extract and beat for another 30 seconds.
In the meantime, sift the flour.
Add only 3 cups flour to the butter mix and let it blend for another minute, still on medium. The dough will start to come together yet will remain smooth. Gradually, add the rest of the flour while blending, one tablespoon at a time. Stop when the dough forms a ball. Transfer dough ball into a clean flat surface and knead it a couple of times. If the dough is sticky, add a couple more tablespoons flour. Texture should be smooth, fluffy and airy but not sticky. You don't have to use all the remaining flour.
Wrap dough ball in cling film and place it in the fridge for an hour.
To start baking the Ghorayeba: Take the dough out of the fridge and unwrap it in a large bowl. Line 3 baking sheets with parchment paper if desired. Preheat oven to 150C.
Using your fingers, pull small pieces of dough (about a 1.5 teaspoon) and form them into a small ball by rolling them between your palms. Flatten the ball on the oven tray and insert a pistachio piece in the middle of the round dough. Repeat with the rest of the dough. (You can keep the dough ball wrapped in fridge for up to 3 days and bake on demand).
Place ready trays in the middle of the oven for 8 minutes. You need to monitor that the Ghorayeba stays white without any traces of color, yet fully baked through.
Take it out of the oven and let it cool for a minute then sort it in a serving plate and let it cool a bit longer before serving.