Quinoa, Mozzarella & Pomegranate Salad
By yasmine • October 14, 2016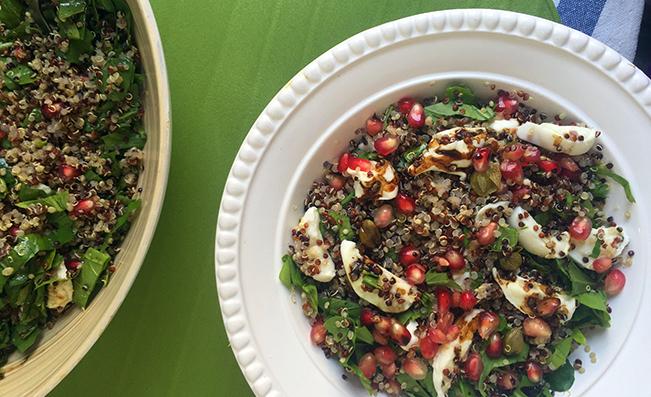 ---
The Quinoa, Mozzarella & Pomegranate is a wholesome and filling salad that is also delicious and works as a side dish to your protein or soup. Adding dried beef or bresaola really works with this salad in case you want to turn it into a meal or lunchbox item.
Prepare it in less than 30 minutes (including cooking the quinoa) and leave it in the fridge until serving (can wait a whole day – just don't add dressing!)
Ingredients
1 cup

quinoa (cooked & cooled) - كينوا

1 bunch

arugula (stems removed & sliced) - جرجير

1/2 cup

pomegranate seeds - بذور رمان

1/4 cup

capers (washed OR pickled onions) - حب الكبر

150 gram

buffalo mozzarella (sliced) - جبنة موزاريلا جاموسي

1 handful

pine nuts (toasted OR crushed roasted almonds) - صنوبر

DRESSING:

1/4 cup

olive oil - زيت زيتون

4 tablespoon

balsamic vinegar - الخل البلسمي

1/2

lime (juiced) - ليمون بلدي

salt and pepper - ملح و فلفل
Step by step
Prepare dressing by mixing all ingredients and place it in the fridge.
To cook the quinoa, either follow the pack instructions, or add 2 cups of water to 1 cup of quinoa. Bring to the boil, then lower the heat and leave to simmer until cooked through.
Mix cooked quinoa with the rest of the ingredients.
Just before serving, drizzle dressing on salad and serve in a shallow bowl.