Fish & Vegetable Coconut Curry
By shahdan • August 20, 2015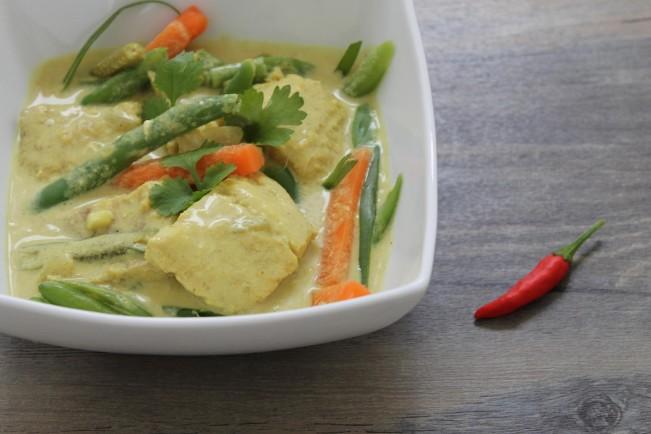 This curry dish is simple and easy for everyday, yet different and impressive for bigger gatherings. I like to use simple everyday veggies like onions, carrots, and green beans. If you do not have fish sauce and soy for the fish marinade, you may use salt, pepper and lime juice! Serve it with white Basmati rice!
Ingredients
1 kg

fish fillet - سمك فيليه

Marinade:

2

lime - ليمون بلدي

2 tablespoon

fish sauce - صوص السمك التايلاندي

4 tablespoon

light soy sauce - صوص الصويا الخفيف

Coconut Curry:

2 tablespoon

vegetable oil - زيت نباتي

1 large

onion (chopped) - بصلة

3

garlic clove (crushed) - فص ثوم

1 teaspoon

fresh ginger (fresh grated ginger) - جنزبيل

2 tablespoon

curry (good quality curry powder) - كاري

1 teaspoon

turmeric - كركم

2 large

carrots (cut in thin sticks) - جزر

2 handful

green beans - فاصوليا خضراء

3 large

spring onion - بصلة خضراء

400 ml

coconut milk (1 can) - لبن جوز الهند

200 ml

coconut cream - كريمة جوز الهند

salt and pepper (to taste + extra lime to taste) - ملح و فلفل

few leaves

coriander (to garnish) - كزبرة
Step by step
To prepare the fish marinade, combine lime juice, fish sauce, and soy sauce. Cut the fish into bite-size cubes and carefully coat the fish with the marinade. Cover and leave in the fridge for one hour or overnight.
To prepare the curry, heat the oil in a large wok or a deep frying pan, then add the chopped onion and fry for 3-4 minutes or until softened.
Add the garlic, ginger, red hot chili pepper, turmeric, curry and stir for another 2 minutes before you add the carrot sticks and green beans.
Mix the veggies with the spices to coat well, then add the coconut milk and cream.
Carefully add the cubed fish and some diagonally sliced spring onions, then leave to simmer on medium-low heat until the veggies are soft and the fish is cooked through (around 15- 20 minutes).
Season with extra salt, pepper, and lime juice if needed. Garnish with spring onions and fresh coriander and serve with white basmati rice!