Fast & Healthy No-Mayo Coleslaw
By Najla Moussa • September 4, 2015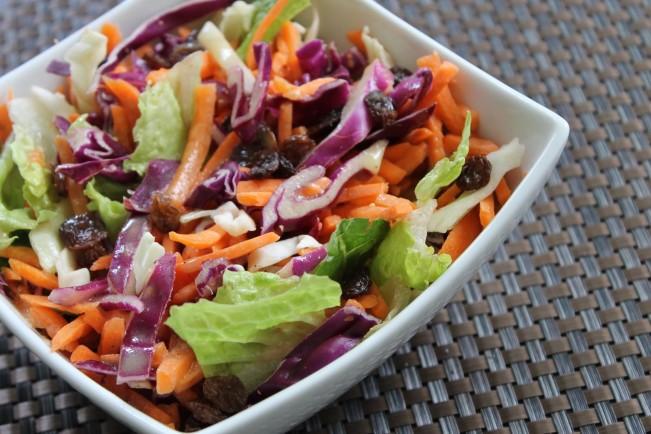 Tested by Cairo Cooking
This salad was tested in the CairoCooking test kitchen and the result: Yummy! It's sweet, crunchy yet light! While the almonds add some nuttiness, the raisins bring a sweet dimension to this all time classic. If you try this no-mayo dressing, you might never want to eat the mayo coleslaw again. We added 2 teaspoons Dijon mustard instead of the recommended 2 tablespoons since we felt it might be too strong - it worked for us. Therefore we advise to add the Dijon gradually and taste as you go!
This is a healthier version of the creamy, crunchy classic version. Just throw one pack of coleslaw mix (you can find it at larger supermarkets) or shred a bunch of carrots, red and white cabbage. Add some almonds and raisins and this healthy dressing below.
Ingredients
1 pack

Coleslaw salad pack (OR shredded carrots, red and white cabbage to taste) - (كيس سلطة الكرنب (الكول سلو

2 handful

almonds (peeled & sliced) - لوز

1 handful

raisins - زبيب

DRESSING:

2 tablespoon

Dijon mustard - مسطردة ديجون

2 tablespoon

honey - عسل

1/4 cup

corn oil - زيت ذرة

1/4 cup

apple cider vinegar - خل حمض تفاح

1/4 teaspoon

black pepper - فلفل أسود

3/4 teaspoon

salt - ملح
Step by step
Add the sliced almonds & raisins to the packed coleslaw mix or mix of shredded carrots, red and white cabbage.
In another smaller bowl, whisk together the dressing ingredients then pour over the coleslaw. Et voila!