Rolled Walnut Baklava
By shahdan • July 3, 2015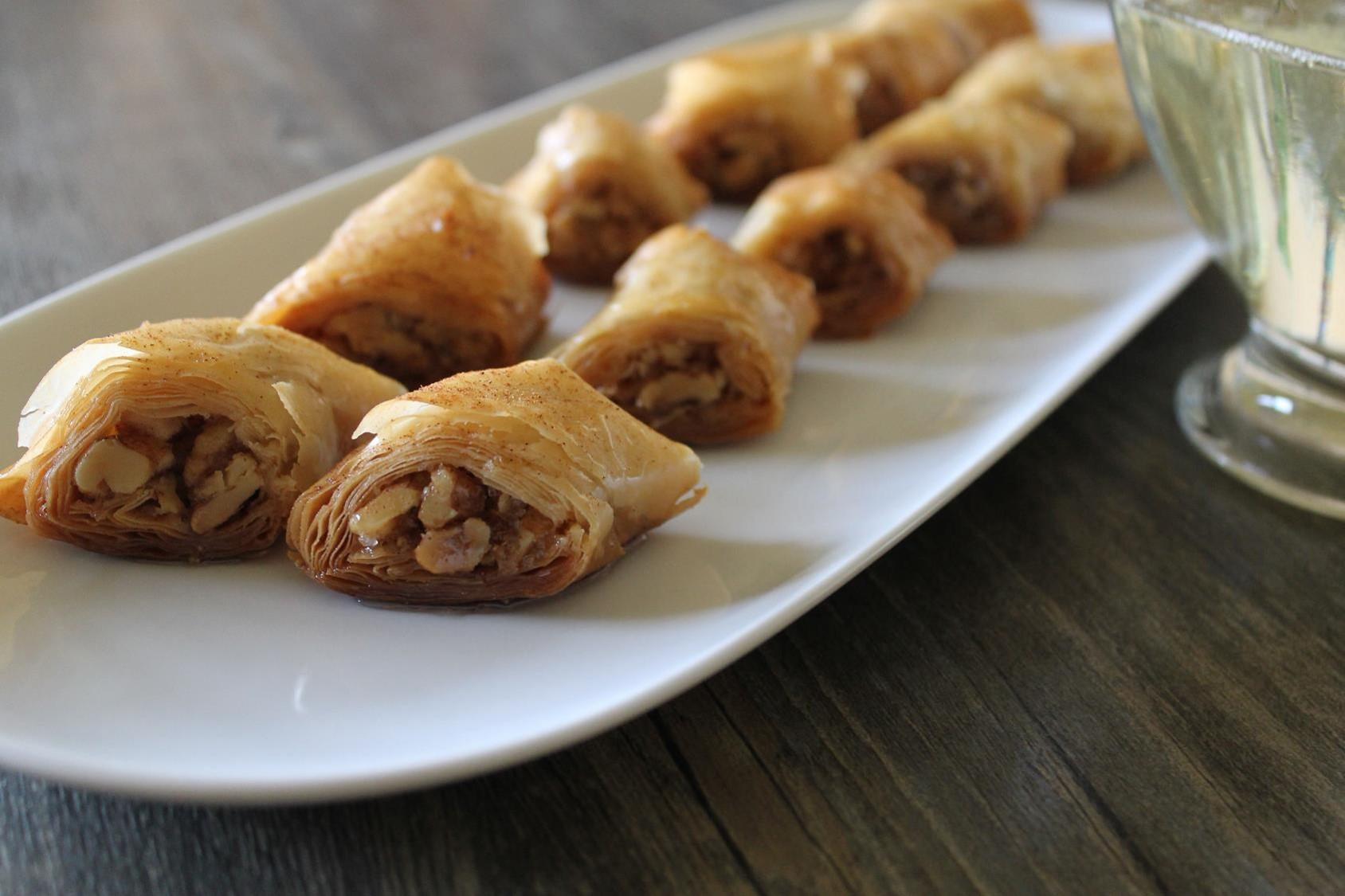 Perfect for entertaining, delicate and crispy, this rolled baklava is so hard to resist! The bite-size pieces look sophisticated, yet they are so easy to prepare! All you need to do is brush 3 filo sheets with butter (one at a time), then roll! Fill them with your favourite nuts, or roll them empty, if this is what you prefer. If you try this recipe once, you will find yourself doing it all the time. It's much easier than you think! But the key is to leave the filo pastry to defrost thoroughly before you open the pack, so the sheets don't break when you try to separate them. A typical Egyptian filo pack will have 10 sheets which will allow you to have three rolls.
Ingredients
1 pack

filo pastry - جلاش

1 stick

butter (100 grams) - زبدة

FILLING

1/2 cup

walnut - عين جمل / جوز

1 tablespoon

sugar - سكر

1/4 teaspoon

cinnamon powder (plus a little extra to sprinkle at the end) - قرفة

SYRUP

2 cup

sugar - سكر

1 cup

water - ماء

1/4

lime - ليمون بلدي
Step by step
For the syrup, heat sugar and water over medium heat. When the mixture boils, lower the heat and leave to simmer for about 5 minutes until slightly thickened. Add the juice of 1/4 lime and turn off the heat.
For the filling, mix the walnuts, sugar and cinnamon (preferably in a bag) and crush the bag to slightly break up the walnuts. You may also use a food processor if you prefer your nuts smaller and the baklava thinner.
Melt the butter in a pan over very low heat, then pour in a bowl and have your brush ready.
You will need a clean flat work surface to prepare your baklava. Lay out one sheet of filo on your work surface, and brush it with melted butter. Next, top it with a second sheet and brush, followed by a third sheet and brush it as well.
Put some of the filling along the edge of the 3-tiered buttered filo pastry (as per photo) and roll it till the end, then put aside to start the next roll.
Use a sharp knife to cut the rolls diagonally into 8- 10 pieces per roll. Brush with more butter then arrange in a lightly greased oven tray.
Bake your baklava in a pre-heated 180C oven for 30 minutes or until slightly golden.
Sprinkle with a little cinnamon, then carefully pour your preferred amount of cooled syrup over the hot baklava. Arrange in a dish and serve!