Everyday Freekeh with Onions & Carrots
By yasmine • January 31, 2020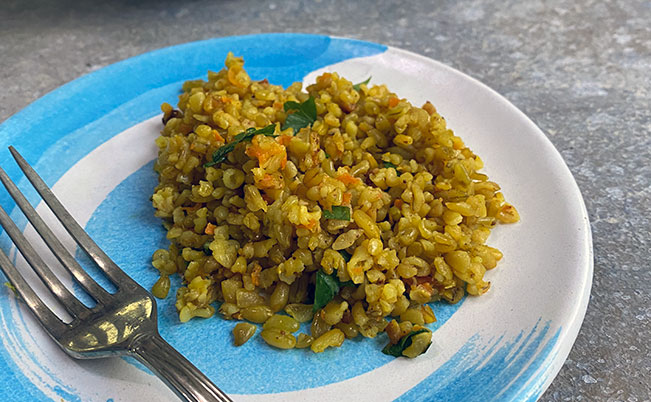 If you want to replace your daily rice dish, Freekeh with Onion & Carrot is the way to go. It is heartwarmingly wholesome and slightly sweet from the caramelized onions and carrots, while it also works with most veggies and meats, especially Meat Cubes with Carrots & Potatoes (Kabab Halla) and Liver with Colored Peppers.
Freekeh also has a higher protein content and a lower carb content than all rice types making it a healthier, lighter and more wholesome side.
This freekeh also tastes great cold, so you can also add leftovers to any salad to make it into a meal.  (Check Freekeh & Eggplant Salad)
Ingredients
2 tablespoon

olive oil - زيت زيتون

1 tablespoon

butter - زبدة

1 large

onion (diced) - بصلة

3 medium

carrots (grated) - جزر

3 cup

freekeh (500g) - فريك

1 teaspoon

cinnamon powder - قرفة

1 teaspoon

turmeric - كركم

salt and pepper - ملح و فلفل

2 cup

broth (OR salted water + bay leaf + cardamom) - مرقة

2 tablespoon

parsley (finely chopped) - بقدونس
Step by step
Wash freekeh under running water in a slotted bowl, for a few minutes until water runs out clear.
In a large pot, melt butter with oil on medium heat. Add diced onion and stir for a few minutes until golden (about 10 minutes). Add grated carrots, season with salt and pepper and stir.
Add washed freekeh, turmeric and cinnamon. Stir all ingredients to combine, then add hot chicken or veggie broth or just hot salted water with a bay leaf and cardamom.
As soon as it starts to boil, lower heat and cover for about 15 minutes. You can stir half way through to make sure none of the freekeh crisps at the bottom.
Fluff it with a fork as soon as it is cooked and serve it warm next to any tomato-based veggies, chicken or meat. Garnish with chopped parsley for some green goodness.