Sugarless Banana Brownies
By yasmine • November 9, 2016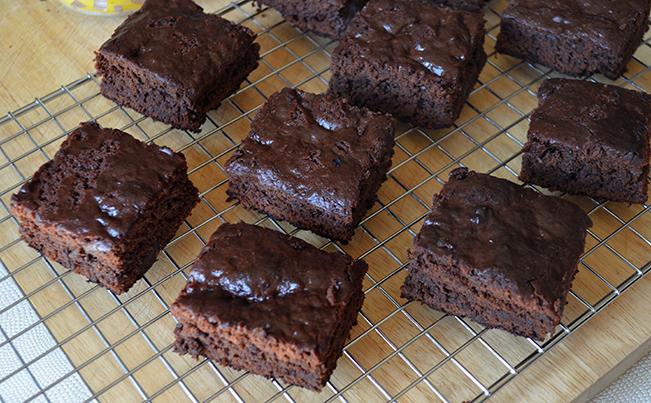 This banana brownies recipe is the one you go to when you have a sweet tooth or want to make your kids a yummy yet sugar-free treat. The bananas add creaminess and some sweetness to the cocoa as a substitute to dairy & sugar.
You can add some dark chocolate chips that will melt in the oven and make it even more gooey.
Ingredients
1 cup

whole wheat flour - دقيق القمح الكامل

1/2 cup

chocolate chips (dark chocolate - OPTIONAL) - قطع شوكولاتة صغيرة

1/2 cup

cocoa powder (100% cocoa) - بودرة كاكاو

2 large

bananas - موز

1/2 cup

molasses (raw molasses not commercial OR date syrup) - عسل أسود

1/2 cup

coconut oil (OR olive oil or canola oil) - زيت جوز الهند

1 large

egg (can substitute with two table spoons oil) - بيضة

1 teaspoon

vanilla extract - خلاصة الفانيليا

1 teaspoon

baking powder - باكينج باودر
Step by step
Preheat oven to 180C. Line a 20x10 oven dish with parchment paper.
Mix flour with cocoa, baking powder & salt and set aside.
Use a handheld mixer and medium bowl to mash the bananas and mix it with the molasses. Then add the egg, vanilla extract and oil mix until all is combined.
Slowly add flour mixture to the wet mix and make sure it is fully combined. Add chopped chocolate or chocolate chips and manually stir them in.
Tip the brownies dough into the baking dish and make sure it is leveled all over. You can sprinkle some chocolate chips on top if you like. Then place it in the middle of the oven for 25-30 minutes (or until you can place a knife in it and get it out clean.
Let it rest for 10 minutes before removing it out of the tray. Cut into squares and serve warm or cold.