El-Mouled Gingerbread Cookies
By Shewekar Elgharably • December 23, 2015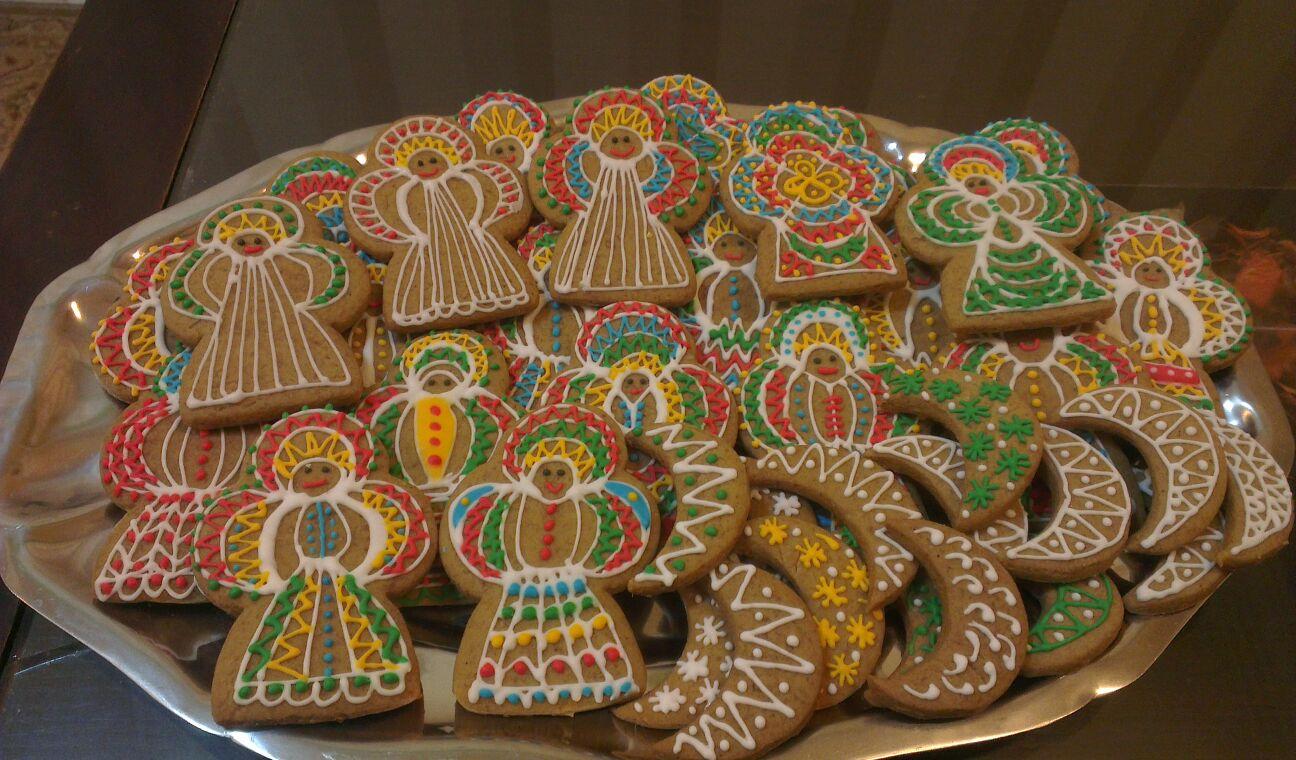 When a classic christmassy recipe meets a very authentic presentation..Just the perfect way to celebrate El Mouled El Nabawi and Christams…
We cannot say much, the picture says it ALL!!! And we can't help but wonder where she found those super special cookie cutters… As for the moon-shaped ones, you can use a regular cup to make simple circles, then use the same cup again to cut out the circle into a moon-shape!
This recipe yields around 20 medium sized cookies.
Ingredients
2 1/2 cup

flour - دقيق

1 1/2 teaspoon

baking soda - بيكربونات الصودا

1 teaspoon

cinnamon powder - قرفة

1/2 teaspoon

salt - ملح

1/4 teaspoon

black pepper - فلفل أسود

1 teaspoon

ginger powder - بودرة جنزبيل

1 teaspoon

cloves - قرنفل

1 medium

lemon peel - قشر ليمونة

1 medium

orange peel - قشر برتقال

1/2 cup

butter (at room temperature) - زبدة

1 cup

brown sugar - سكر بني

1/2 cup

sugar - سكر

1 large

egg - بيضة

1/2 cup

molasses - عسل أسود

Icing:

2 cup

icing sugar - سكر بودرة

5- 6 tablespoon

water - ماء

food colouring (optional) - ألوان للطعام
Step by step
Preheat the oven to 180C. Line your baking tray with parchment paper.
In a bowl, mix all the dry ingredients together with the zest of one orange and one lemon. Set aside.
In another bowl mix the wet ingredients: beat the butter with the sugar, molasses, and one egg until well combined.
Gradually add the dry ingredients to the wet ingredients and mix with your hands until the dough comes together into a ball. For best results, place it wrapped in cling film in the fridge for 15-30 minutes.
Dust your working surface, your rolling pin and cookie cutters with a little flour. Roll out the dough until it's 4- 5 mm thick. Use the cookie cutters to cut out the cookie shapes and arrange them on the baking tray (about 3 cm apart).
Use your hands to work the remaining dough into another ball and repeat the process.
Bake the cookies for 10- 12 minutes or until golden. Remove from the oven and allow them to cool on the tray before you transfer them to a cooling rack.
For the icing, mix the icing sugar with the water until you reach a smooth yet relatively thick consistency. (Add one tablespoon at a time because you might not need the full quantity of water).
If you are using food colouring, divide the icing into different bowls, and add one drop of each colour to the different bowls and mix.
Use piping bags to decorate the cookies. Allow the icing to dry before serving.