Guiltless Granola Bars
By Shewekar Elgharably • May 4, 2015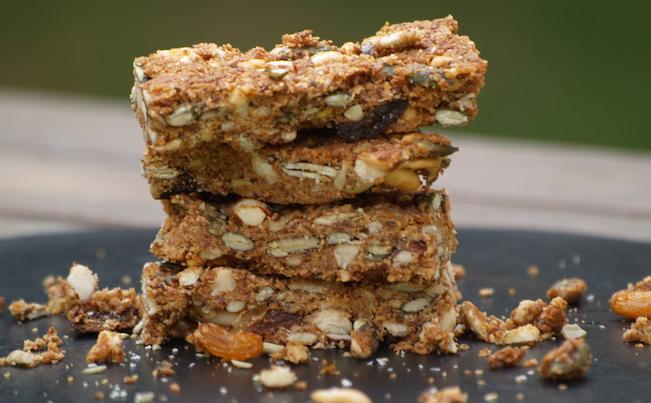 These Guiltless Granola Bars are the perfect snack. It is crunchy, semi-sweet and super-filling.
Ingredients
3/4 cup

coconut (shredded) - جوز الهند

1/2 cup

almonds (chopped) - لوز

1/3 cup

sesame seeds - بذور السمسم

1/4 cup

pumpkin seeds - بذور اليقطين

1/4 cup

sunflower seeds - بذور عباد الشمس

1/4 cup

flax seeds (ground) - بذور الكتان

1/4 cup

dried cranberries (raisins or dried blueberries may be used) - التوت البري المجفف

pinch

salt - ملح

1/4 cup

honey - عسل

1/4 cup

almond butter (or peanut butter) - زبدة اللوز

1 tablespoon

coconut oil - زيت جوز الهند
Step by step
Preheat oven to 180C. Line pan with parchment paper & lightly grease with coconut oil.
Throw coconut, almonds, sesame seeds, pumpkin seeds and sunflower seeds into a large frying pan. Place over low/medium heat and stir occasionally for 5 minutes or until lightly toasted.
Remove from heat and place in a large mixing bowl with the ground flax seeds, cranberries and sea salt.
Add honey and almond butter into the mixing bowl and mix well until all ingredients are evenly distributed.
Transfer mix into the pan and press down evenly. Take some time to really pack it in there. (If you don't pack it down firmly enough, the bars might crumble.)
Bake in oven for 15 minutes. Remove from oven and let cool completely.
Once cool, lift parchment paper out of the tin and slice into bars with a sharp knife. Keep in an airtight container for up to a week.