Cozy Cauliflower Soup
By yasmine • November 7, 2015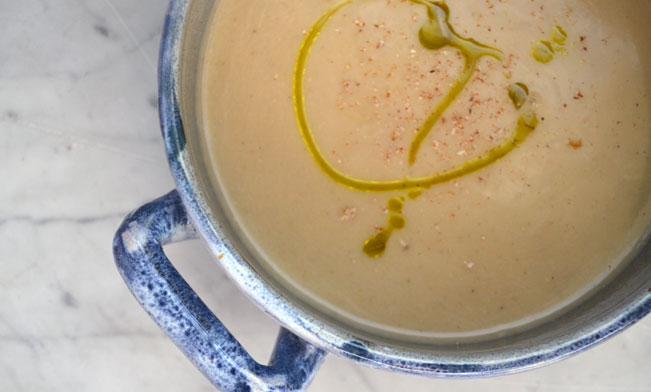 This soup is the perfect hug in a mug. Even those who wouldn't regularly eat cauliflower will enjoy its creaminess and filling taste. It is easily prepared in 30 minutes for your family and friends.
Ingredients
2 tablespoon

olive oil - زيت زيتون

1 large

onion (minced) - بصلة

2

garlic clove (minced) - فص ثوم

3 cup

cauliflower (cut in florets) - قرنبيط

1/4 teaspoon

nutmeg - جوزة الطيب

1/2 tablespoon

sugar - سكر

3 cup

chicken broth/stock (OR vegetable broth) - مرقة دجاج

1/2 cup

milk - لبن

1/4

cooking cream (optional) - كريم الطهي

salt and pepper (to taste) - ملح و فلفل

paprika (optional for garnish) - بابريكا / فلفل أحمر
Step by step
In a medium pot, heat the olive oil on and sauté the onions followed by garlic on medium heat until softened.
Add cauliflower, sugar, nutmeg, salt and pepper. Stir all for a couple of minutes before adding warm broth.
As soon as the mix starts boiling, bring the heat down, cover and let it simmer for 15-20 minutes - until you feel the cauliflower florets are cooked through.
Stir in the milk making sure the soup is still simmering.
Using a blender or a handheld mixer blend the mix into a creamy soup consistency. You can add some cooking cream if you like and adjust salt and pepper to taste. Dust the soup with some paprika powder for garnish.