No-Bake Cheesy Spinach Bechamel
By shahdan • May 8, 2015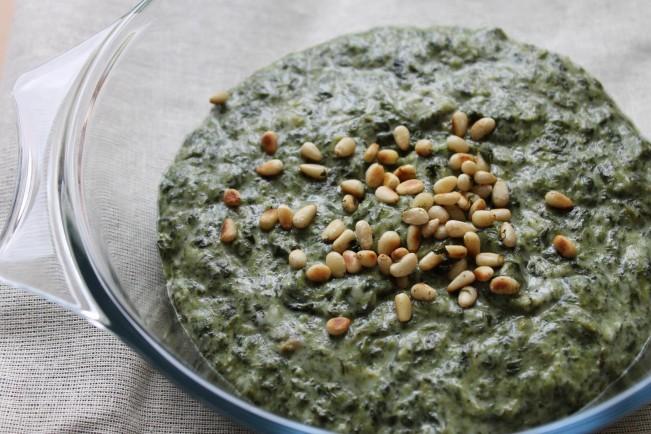 This Cheesy Spinach Bechamel recipe is fast, easy and perfect for everyday when you don't have much time to cook and still fancy a hearty meal. It is the perfect creamy companion for grilled meat, chicken and fish… My family believes it is much tastier than the traditional spinach béchamel, and they are more impressed that I prepare it in no time at all. I also like to serve it in dinner parties to replace the boring vegetable dishes that are usually left untouched.
Ingredients
1 pack

spinach (400 g frozen spinach) - سبانخ

1.5 cup

milk - لبن

2 tablespoon

vegetable oil (or butter) - زيت نباتي

1.5 tablespoon

flour - دقيق

2 slice

gouda cheese (or handful grated cheese) - جبن جودة

1 pinch

nutmeg - جوزة الطيب

1/2 teaspoon

garlic powder - بودرة ثوم

1 tablespoon

pine nuts (optional) - صنوبر

1 pinch

salt and pepper - ملح و فلفل
Step by step
Place the frozen spinach in a covered pan, with 1/4 cup of water, on a very low heat to defrost.
In the meantime, you need to do the béchamel. In a pot, add the oil or butter. Stir in the flour, and mix it with the oil. You should leave it to bubble for 30 seconds so the flour cooks. If you skip this step the béchamel will taste like raw flour.
Add the milk and whisk on a low heat until the béchamel starts to thicken.
Season the béchamel with salt, pepper, nutmeg and garlic powder.
When the béchamel reaches the required thickness, add the cheese (cut into small pieces) and whisk so the cheese melts in the béchamel. Put aside.
Shake the pine nuts in a dry pan over low heat until they are nice and golden (1-2 minutes). You do not need to use any oil, as the pine nuts release their natural oils when heated. Set aside.
By then the spinach will be defrosted. Remove from heat and use a sieve to squeeze out all the water from the spinach.
Mix the spinach with the béchamel, adjust the seasoning using salt and pepper, and leave to simmer on a low heat for 3 minutes, and you are ready to serve.
Sprinkle pine nuts on top and serve immediately.