Crunchy Tuna & Capers Salad
By yasmine • August 17, 2016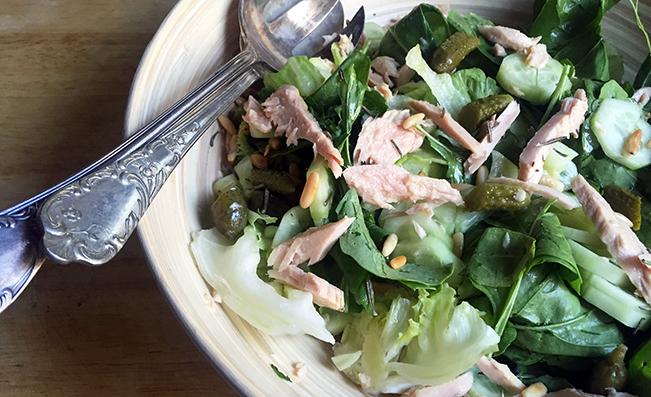 With lots of greens, the tuna and capers salad is so simple yet delicious due to its sweet and tangy dressing. You can throw it together in 5 minutes and enjoy it as a full dinner.
Ingredients
2 pack

tuna fish (preferably smoked) - تونة

1/2

iceberg lettuce (handtorn) - كابوتشا

1 bunch

arugula - جرجير

2

cucumber (peeled and cut in half circles) - خيار

3 tablespoon

capers (drained) - حب الكبر

4 sprig

rosemary (finely chopped) - روزماري/ إكليل الجبل

DRESSING:

1/4 cup

olive oil (you can also mix it with the oil from the tuna) - زيت زيتون

3 tablespoon

balsamic vinegar - الخل البلسمي

3

lime (juiced) - ليمون بلدي

1 teaspoon

honey - عسل

salt and pepper - ملح و فلفل
Step by step
Mix the dressing ingredients and set aside.
In a salad bowl, use your hands to tear lettuce and arugula leaves. Add the sliced cucumbers and dress it with a tablespoon of the dressing.
Add the smoked tuna meat followed by the capers and chopped rosemary. Add the rest of the dressing and serve.