Classic Egyptian Bessara
By yasmine • March 17, 2016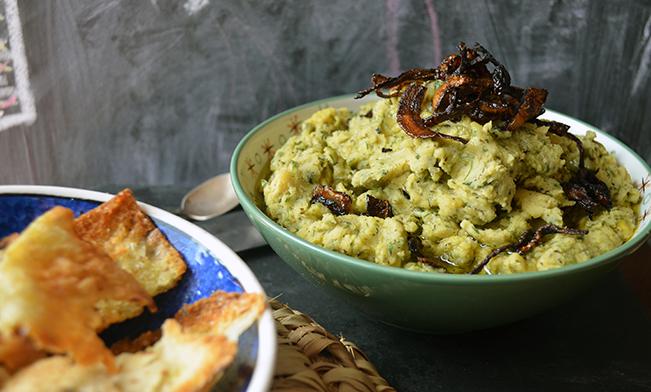 A hearty authentic Egyptian dish to be proud of! It will take you to your grandmothers dinner table. Egyptian Bessara is not just full of flavour, but it's also a super nutritious vegan dish, perfect for the Coptic fast.
You can spread it on sandwiches for the lunchbox, or serve it as a dip with crispy baladi bread. in all cases
Most traditional recipes suggest adding the greens at the beginning of the beans' cooking process (which also helps achieve the bright green color) but I prefer adding my greens in the last five minutes in order to keep some of their crisp freshness. The dried mint helps re-gain that green color we all recognize this dish with.
Ingredients
500 gram

white fava beans (1 pack) - فول مدشوش

1 bunch

coriander (finely chopped) - كزبرة

1 bunch

parsley (finely chopped) - بقدونس

1 tablespoon

dill (finely chopped) - شبت

2 teaspoon

dried mint (powdered) - نعناع مجفف/ ناشف

salt and pepper - ملح و فلفل

5

garlic clove (minced) - فص ثوم

1/2 teaspoon

chili powder (or to taste) - شطة مطحونة

3 cup

water - ماء

1 teaspoon

dried coriander - كسبرة جافة

4 tablespoon

corn oil - زيت ذرة
Step by step
Wash fava beans in a sieve to get rid of any excess starch then place them in a large pot. Add water, salt and pepper, 2 minced garlic cloves and chili powder. Place it on high heat to bring it to a boil, then lower the heat, cover and let it simmer for about 30 minutes or until beans are thoroughly cooked.
In the meantime, fry the sliced onions in 2 tablespoons corn oil stirring occasionally until brown (not black). It takes about 5 minutes. Sieve them out and place them on kitchen paper to get rid of excess oil. Set aside.
Five minutes before you take the fava beans off the heat, add chopped coriander, parsley, mint and dill and stir to combine.
Once all is cooked through, transfer it (with any excess water) into a blender or use a handheld mixer to smoothen the beans. Color should turn green.
Put the beans mixture back in the large pot on low heat to get rid of any excess water and make sure the texture is a thick cream or dip. Season to taste with salt and chili.
In the meantime, heat 2 tablespoons corn oil, fry the remaining minced garlic for a minute (until almost brown) then add the dried coriander and stir for 30 seconds before you add this hot mixture to the beans. You should hear 'tshhhh' - that's the Egyptian original tasha used on molokheya and kolkas as well.
Give the beans a final stir then take it off the heat. It is best served at room temperature garnished with a drizzle of olive oil and fried onions and next to crispy baladi bread.