Beef Stroganoff
By shahdan • January 19, 2016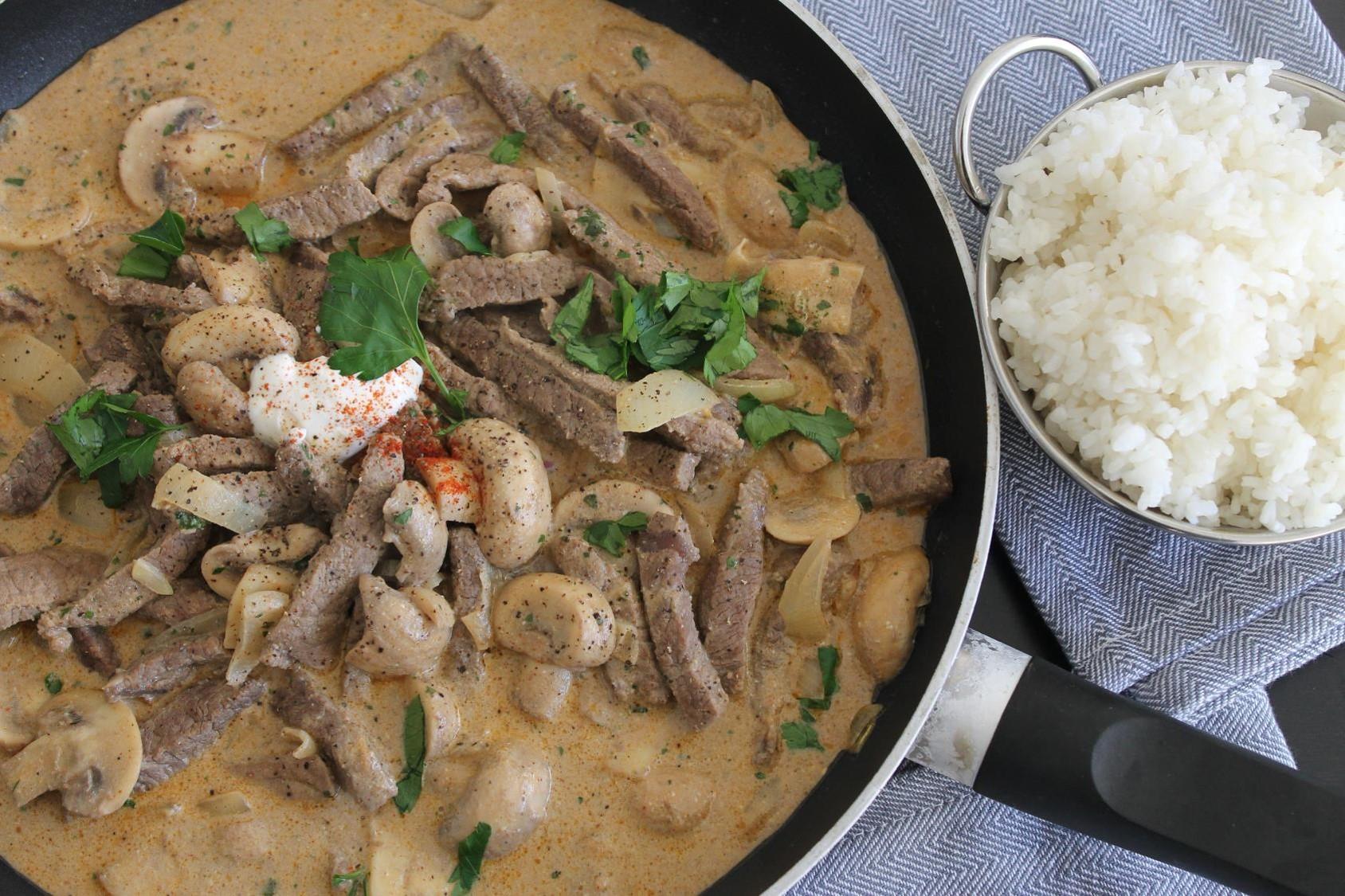 Originally a traditional Russian dish, Beef Stroganoff is always a crowd pleaser! It is easy to cook, and the ingredients are quite basic. Tender beef strips are cooked with fresh onions and mushrooms in a rich creamy mustard sauce… Happiness on a plate!
Ingredients
750 gram

beef fillet (cut into strips) - فيليه كندوز

2 tablespoon

butter - زبدة

2 tablespoon

olive oil - زيت زيتون

300 gram

mushrooms (fresh) - عش الغراب

1 large

onion (chopped) - بصلة

1/4 teaspoon

paprika - بابريكا / فلفل أحمر

3 teaspoon

Dijon mustard - مسطردة ديجون

1/2 cup

water - ماء

150 ml

sour cream (you may use cooking cream) - قشدة حامضة

2 tablespoon

parsley (chopped) - بقدونس

black pepper (freshly cracked) - فلفل أسود

salt (to taste) - ملح
Step by step
Season the beef strips with freshly cracked pepper and paprika. Set aside.
Using a clean wet towel or kitchen tissue, wipe the mushrooms, one by one, to get rid of any dirt. Chop them into slices.
In a large pan or skillet, heat one tablespoon butter with one tablespoon olive oil. Sautee the onions for 3- 4 minutes until soft. Stir in the sliced mushrooms and cook for another 5 minutes on low heat without browning the onions. Season with salt and freshly cracked black pepper. Remove from the pan and set aside.
In the same pan, heat the remaining butter and oil. Add the beef strips and cook on high heat for a few minutes until the meat is nicely browned. This step is important because this brown colour will enhance the colour and flavour of the sauce.
Add one quarter to half a cup of water, and use a wooden spoon to scrape the pan and release any brown bits. Add the Dijon mustard and return the mushrooms and onions. Simmer on a low heat for 4-5 minutes.
Add the sour cream. Adjust salt and pepper. Add fresh parsley and extra paprika to garnish. Best served with rice but also delicious with pasta!