Homemade Creamy Date Syrup
By yasmine • May 17, 2015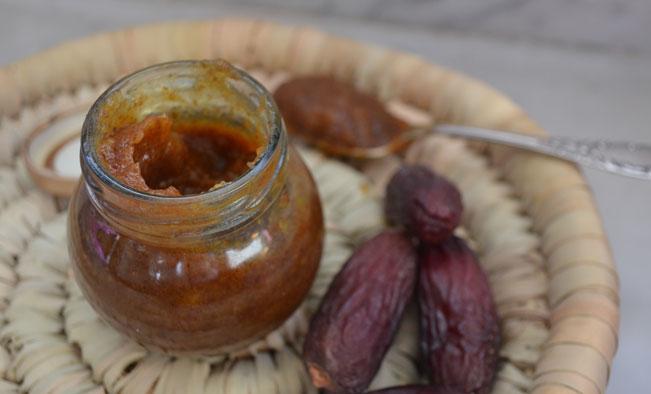 This two-ingredient replacement to sugar, honey and all artificial sweeteners, is to die for! You can use it in baking (same measures as molasses or honey), on your yoghurt and cereal or with your pancakes and over ice cream. (I love adding it to raw Tahini for my version of عسل وطحينة – highly recommended!) Check out http://101usesfordatesyrup.com for some more inspirations.
It doesn't only save you loads of fat (dates contain zero fat!) – but it is also a natural energy booster and a good source of potassium, iron, and magnesium.
It is so worth trying it out!
Ingredients
1 cup

dried dates (pitted, Majdoul dates recommended) - تمر

1 cup

water - ماء

1 small

fresh ginger piece (optional) - جنزبيل

1 teaspoon

vanilla extract (optional) - خلاصة الفانيليا
Step by step
Soak dates in water for a day. For additional flavours, you can boil ginger in the water before soaking the dates in it.
Blend the dates with its water for a smooth syrup. You may add a teaspoon of vanilla extract during the blending process for a change in flavour.