Easy Smoked Salmon Blini
By shahdan • December 30, 2015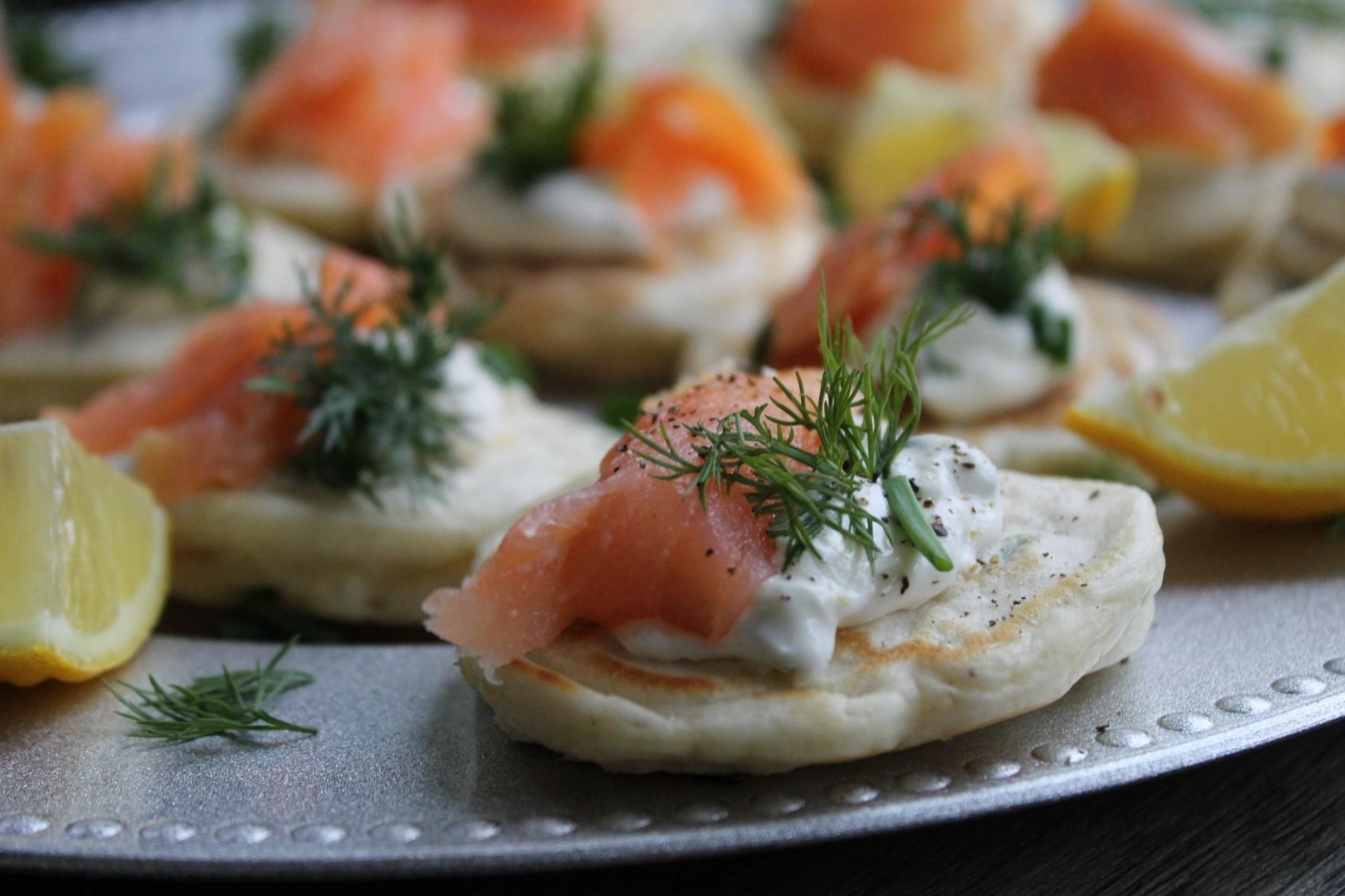 Party food at its best! These salmon blini are not only elegant and absolutely scrumptious but they are also easy to prepare! Your friends will think you're the expert, when these heavenly little canapes melt in their mouths!
Blini are little pancakes made from buckwheat flour and regular flour. I use regular flour only, and the result is still super yummy! If you want to impress, this is the recipe to go for!
Serving Suggestion: you may also add a little black or orange caviar on top of the blini at the end.
This recipe makes 12 pieces.
Ingredients
1 cup

self-rising flour - دقيق بالخميرة

1 medium

egg - بيضة

1/2- 3/4 cup

half cream milk - لبن نصف دسم

1/4 teaspoon

salt (or to taste) - ملح

1/8 teaspoon

black pepper (freshly cracked) - فلفل أسود

2 tablespoon

chives (finely chopped) - ورق بصل

1 teaspoon

vegetable oil - زيت نباتي

100 gram

cream cheese - جبن كريمى

1 medium

lime (plus more to serve & garnish) - ليمون بلدي

120 gram

smoked salmon - سمك السلمون المدخن

2-3 tablespoon

dill (chopped) - شبت
Step by step
In a bowl, combine flour with salt and a little freshly cracked pepper. Make a well in the middle and add one egg and half the milk.
Whisk the milk and egg together while gradually mixing with the flour from around the edges.
Add the rest of the milk gradually and whisk until you reach a lump-free, relatively thick batter. Add one tbsp. chopped chives and mix.
Brush a good non-stick frying pan with 1 tsp. oil and place it over medium heat.
Use a tablespoon to drop the batter into the pan, one spoon per pancake. Make sure to space them well apart.
When bubbles start to appear around the edges of the blini, flip them and cook for another minute. Remove from pan and set aside, preferably on a cooling rack.
In a small bowl, mix the cream cheese with the juice of half a lime, salt, pepper, and 1 tbsp. chopped chives. Set aside.
Cut your smoked salmon into bite-size pieces and season with lime juice and freshly cracked black pepper.
To serve, arrange the blini on a serving dish. Top each one with 1 tsp. cream cheese, followed by a piece of smoked salmon, and a sprig of dill. Garnish with lemon wedges, and extra dill.