Warm Chestnut Soup with Garlic Breadcrumbs
By Fayza Riad • February 2, 2021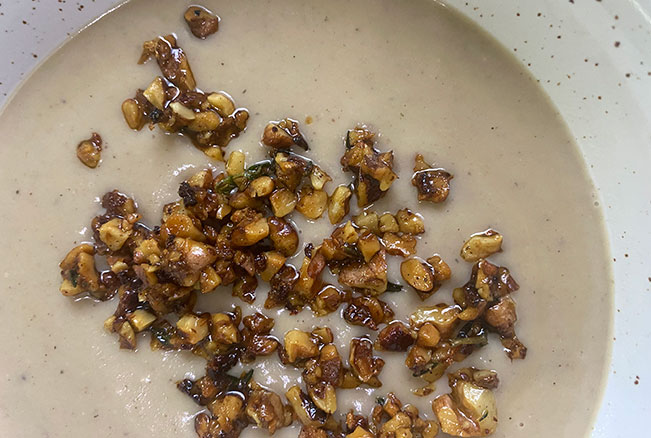 I tried the chestnut soup in London back in 2013 and ever since then I wanted to prepare it myself and I just did this winter. It turned out super warm and yummy.
The original recipe ingredients includes cream, I used skimmed milk instead and it still turned out creamy since chestnuts are already somewhat fatty. You can also use your choice of nut milk.
To prepare/cook the chestnuts for using – there several ways – check this link: http://www.wikihow.com/Cook-Chestnuts
Once the chestnuts are cooked, this soup takes less than 20 minutes.
Ingredients
1 small

onion (diced) - بصلة

2 cup

chestnuts (boiled or roasted, chopped)

2 tablespoon

olive oil - زيت زيتون

2 cup

chicken broth/stock - مرقة دجاج

2 cup

skimmed milk (OR unsweetened oat or almond milk) - لبن منزوع الدسم

For the breadcrumbs:

2 tablespoon

butter (or 4 tablespoons olive oil, divided) - زبدة

1/2 cup

breadcrumbs (OR chopped raw walnuts) - بقسماط

1

garlic (minced) - ثوم

1 teaspoon

thyme (freshly chopped) - زعتر

2

garlic cloves (minced) - فصوص ثوم
Step by step
In a medium soup pot, heat 2 tablespoons olive oil and fry minced onion until translucent (about 7-8 minutes.) Stir in minced garlic.
Add chopped chestnuts, hot chicken broth, & milk. Sprinkle thyme & season with salt and pepper. Bring the mix to a boil. Cover, lower heat and let it simmer for 10 minutes.
Use a handheld mixer or transfer your soup to a food processor and pulse until it is completely creamed.
For the breadcrumbs, heat olive oil in a medium pan, then add minced garlic, breadcrumbs and fresh oregano. Stir for a couple of minutes on low heat to combine.
Serve breadcrumbs next to the warm soup and enjoy!