Beetroot & Goat Cheese Salad
By shahdan • May 18, 2015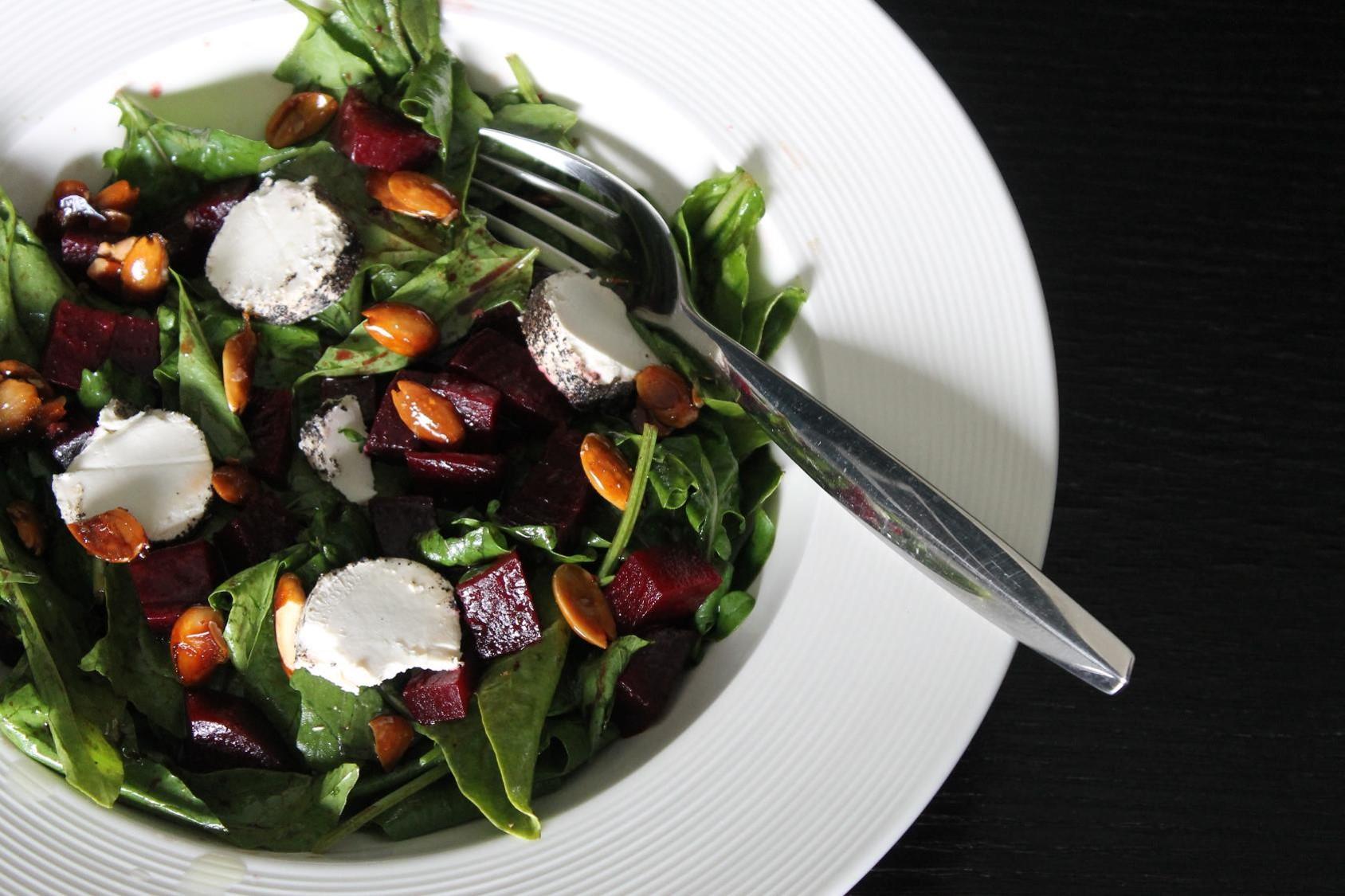 The combination of beetroot and goat cheese is just heavenly. The honey-glazed almonds add an unexpectedly beautiful sweet nutty crunch.  If you are bored of the same daily salads, this is what you are looking for!  And the dressing: super easy balsamic vinaigrette.
You will need cooked beetroots to prepare this salad. In a pot, cover the beetroot with water and leave to boil for around 45 minutes or until the beetroot is soft when you insert a knife. Leave it to cool then peel it, slice it and keep it in a sealed box in your fridge.  The rest is fairly easy.
Ingredients
1 bunch

spinach (baladi or you can use baby spinach) - سبانخ

1 bunch

rocket - جرجير افرنجى

1 large

beetroot (cooked and sliced into cubes) - بنجر

2 tablespoon

almonds (I buy it peeled and halved) - لوز

1 tablespoon

honey - عسل

a few piece

goat cheese - جبن الماعز

1/8 tablespoon

olive oil (to prevent the caramlized almonds from sticking) - زيت زيتون

DRESSING:

2 tablespoon

olive oil - زيت زيتون

1 tablespoon

balsamic vinegar - الخل البلسمي

1 medium

lemon - ليمون

1 medium

garlic clove crushed - فص ثوم
Step by step
To prepare the honey glazed almonds: First, brush a plate with a few drops olive oil and put aside. In a pan, add the almonds, and shake the pan on medium heat for about 30 seconds. Next, add 1 tablespoon honey and toss the almonds with the honey. Keep an eye on the pan until the honey reaches a golden light brown colour. Poor the honeyed almonds on the lightly greased plate and leave to cool.
In a bowl, mix the spinach and rocket leaves, and add the beetroot slices on top.
In a jar, mix the dressing ingredients together, shake well, and pour over the salad.
Add sliced goat cheese on top and use your hands to crumble the honeyed almonds and scatter on top.