Sweet & Sour Chicken with Jasmine Rice
By Alia El Askalany • October 1, 2015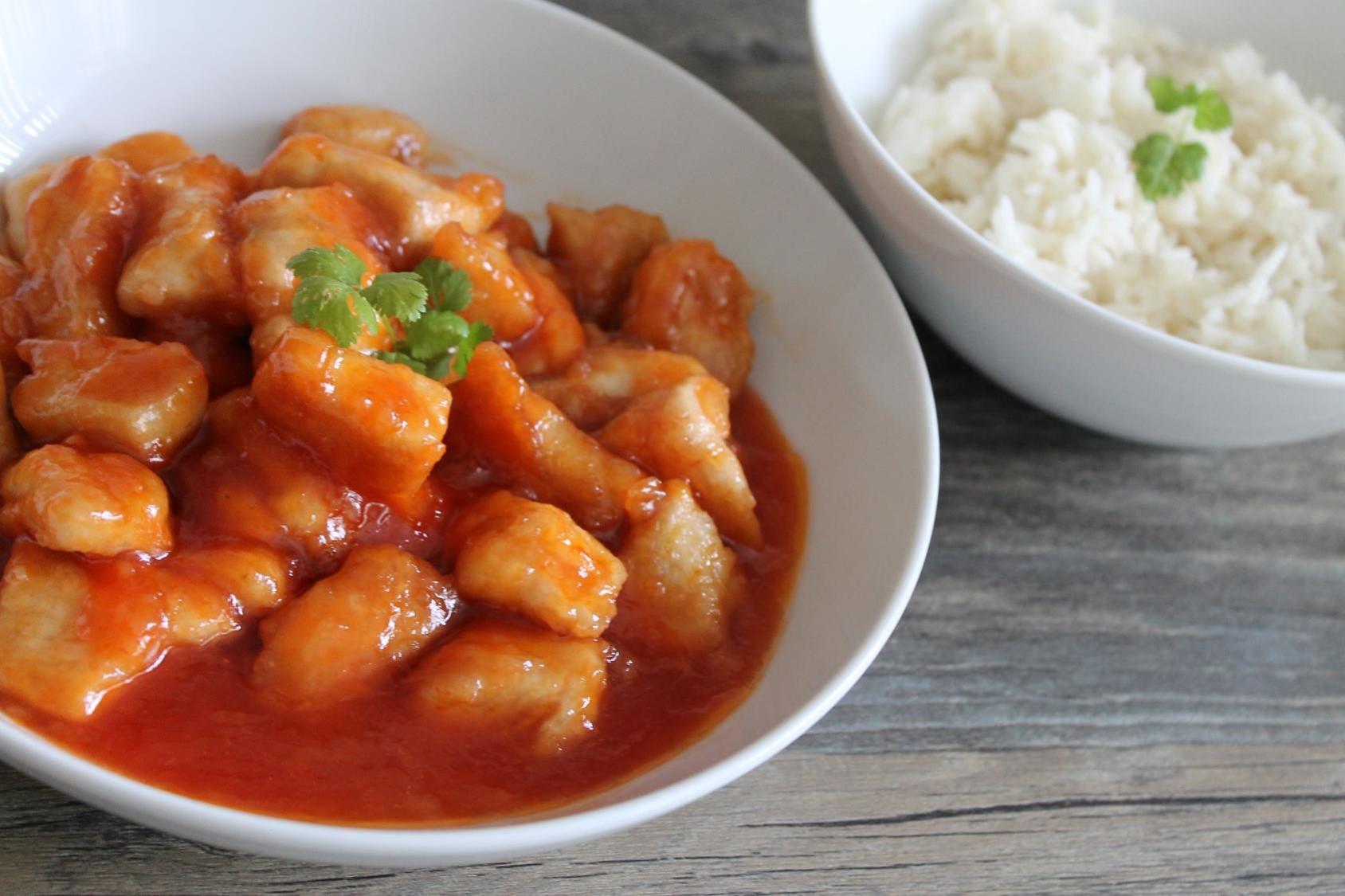 This recipe is an entry to #MyBestDish cooking competition with Easy-Pan.com.
A staple Asian recipe that's a favorite to many, and also super easy to whip up. I just added a little something to give it an oriental kick! Just add 1 1/2 tablespoon Pomegranate Molasses (دبس الرمان) to give it that tangy sticky feel.
Ingredients
4 piece

chicken breast fillet - صدور فيليه الدجاج

1/2 cup

corn starch - نشا

1/4 cup

vinegar - خل

4 tablespoon

brown sugar - سكر بني

3 tablespoon

ketchup - كاتشب

2 tablespoon

olive oil - زيت زيتون

1/4 cup

water - ماء

1/2 teaspoon

chili sauce - الصوص حار

1 teaspoon

salt (for the rice) - ملح

1 cup

rice (choose Jasmine rice) - أرز

1 1/2 cup

water - ماء

1 tablespoon

coconut milk (optional for the rice) - لبن جوز الهند

11/2 tablespoon

pomegranate molasses - دبس رمان
Step by step
Cut the chicken breasts into cubes and coat well with corn flour.
In a pan, heat olive oil, then add the chicken cubes. Stir fry on all sides until golden (around 10 minutes).
Add the vinegar, then ketchup, sugar and water.
Mix well and leave to simmer on low heat until the sauce thickens. Add the pomegranate molasses.
Add chili sauce right at the end and cook for an additional 3-5 minutes then remove from heat.
For the rice, heat water with a bit of salt on high heat. When it boils, stir in the rice and cover. Leave to cook on a very low heat for 25 minutes without removing lid.
Remove from heat, open lid, fluff it up with a fork and place it back on low heat for an additional ten minutes or until cooked through. Optional: you can add 1 tablespoon of coconut milk to make the rice sticky and give it that extra kick.