Arugula Sun-dried Tomato & Parmesan Salad
By yasmine • June 4, 2015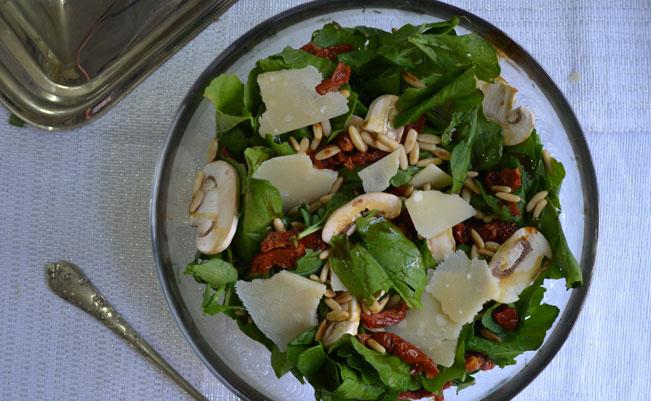 This salad is so delicious, it always leaves an impression with guests. It is a sophisticated take on the famous arugula mushroom salad with added tastes of the sun-dried tomatoes, pine nuts and pomegranate molasses dressing. It is green, rich and a party favourite!
Consider layering this salad with all the ingredients to ensure every serving is rich and full of flavour. If you toss all ingredients on the arugula it doesn't distribute evenly and makes the arugula look little and worn out.
Ingredients
4 bunch

arugula (without stems & hand-torn) - جرجير

250 gram

mushrooms (thinly sliced) - عش الغراب

100 gram

sun-dried tomatoes (thinly sliced) - طماطم مجففة

100 gram

parmesan cheese (thinly shaved) - جبنة بارميزان

1 handful

pine nuts (toasted) - صنوبر

DRESSING:

1/3 cup

pomegranate molasses - دبس رمان

1

lemon - ليمون

1/2 teaspoon

black pepper - فلفل أسود

2 tablespoon

olive oil (optional) - زيت زيتون
Step by step
To do the dressing, mix the pomegranate molasses with lime juice, fresh pepper and olive oil.
In a large salad bowl, layer 1/3 of the arugula leaves followed by 1/3 of the sliced mushrooms and 1/3 of the sun-dried tomatoes. Repeat the layering 2 more times.
Mix all the dressing ingredients together.
Keep the dressing step until it is time to serve - drizzle the dressing on top and on the sides of the salad but don't toss it. Then throw the toasted pine nuts and parmesan shavings on top.